Why would you need a camera inspection of your plumbing? The simple answer is to find a
mysterious blockage. But there are actually many reasons that people call us.
You may need a camera inspection in Vaughan to:
Check drains for a lost ring or other small valuables
Check the status or level of your septic tank/ system
Inspect a new building's plumbing before you buy
Verifying that your existing plumbing could support a new or renovated bathroom.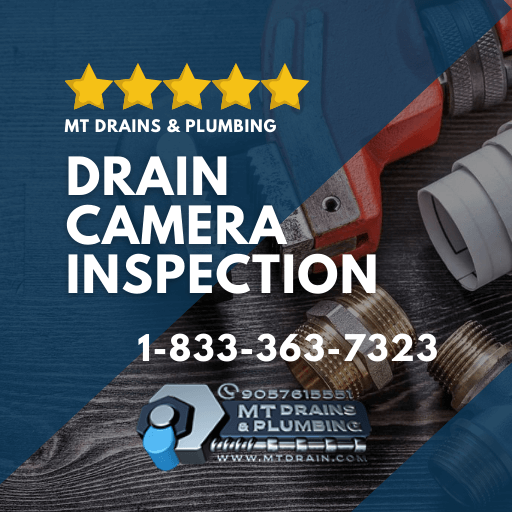 We use top of the line high-quality drain camera equipment which allows us to detect drain and sewer issues all the way from your property to city sewer lines. Make sure you contact a professional plumber to inspect your drain lines using drain camera inspection to make sure the blockage is on your property line.
Taking any of these steps can save you a lot of time, money, and mess down the road. So don't wait, call us for an appointment today.

Drain Camera Inspection review in Vaughan
"I will truly say Pavel is the best contractor I've ever worked with. He is always around and willing to stop by and help. His initial work was done ahead of schedule and on budget. Highly highly recommend!"
Booking a Drain Camera Inspection in Vaughan
We have been in the plumbing trade since 1991. MT Drains & Plumbing is well known for our equipment, expertise and professionalism. We're proud that our customers constantly refer us to their friends and family. Our drain camera inspection is the best starting point in figuring out what is causing the blockage in your drain or sewer.
You can reach us by calling 1-833-363-7323.
Drain Camera Inspection and Damaged Location Services
Among the most effective ways of inspecting the damaged locations in the drainage system is camera line inspection. This procedure is popular as it allows plumbers to determine the sources of the problem in the pipes in a quicker and accurate manner.
How Drain Camera Inspecting Works
The plumber begins by feeding a flexible fiber optic cable through the pipe which is suspected to be damaged. There is a camera with a small waterproof lens attached at the end fiber optic cable. The camera has lights equipped to enable the plumber to see where the problem is. As the cable is fed in the pipe, the camera transmits the live video to the camera operator. Our technician then will be able to suggest which service is required.
Major Damage to the Pipes can be Detected using a Drain Camera Inspection
Through drainpipe camera inspection, the plumber will be able to determine where the complication is. Any major breaks or cracks will be visible no matter where in the pipe it occurs. Bends or dents in the pipe can be located through this method before going through with a major replacement, a simple repair may be a better fix by doing this first.  Refer to our Drain Services page to see some of the many solutions we offer for clogged or broken drain pipes.
A Blockage or a Clog in the Drain or Sewer
Clogs or blockage can build up in the plumbing in several ways so it an be difficult to determine the cause without a proper inspection. By determining the cause of the blockage inside your pipes the tool that will be most appropriate can be chosen, whether it is grease build up, organic matter, or tree roots.  It is common for objects to end up making their way down drains which were never intended to be there. Being able to determine the object in question can help avoid future problems from reoccurring by having this knowledge.
As a plumbing system ages, the pipes can begin to deteriorate without any indication on the outside. With a thorough interior search, our plumbers will be able to diagnose the condition of your pipes and tell you about the quality of your water based on what is observed. New pipes may be necessary in these cases.