Imagine that one day you come back home and find your basement filled with water from the sewer – it sounds really horrible. Unfortunately, such things do happen in houses without a backwater valve. The basic rule of plumbing is that water should always flow downhill, however, this is not always the case since the water in city sewers can sometimes experience backflow due to flooding or blockage. If your waste pipes don't have a backwater valve installation Toronto, the backflow can send the sewer water back to your home.
Are you worried about heavy rain flooding your property? Installing a backwater valve may be your best bet. An expertly installed backwater valve can help you prevent expensive and messy issues with basement flooding, raw sewage and sewer backups. The City of Toronto will subsidize your backwater valve. We're a certified contractor, which means we can help you protect your home with a backwater valve, while showing you how to get the work subsidized by the City of Toronto, as part of a new program.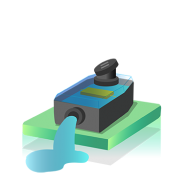 To protect Toronto's homeowners from the damage that can come from extreme weather, the City is offering owners of single-family, duplex and triplex residential homes a financial subsidy of up to $3,400 per property to install flood protection devices including:
Backwater valve installation
Sump pump installation
Pipe severance and capping of the home's storm sewer or external weeping tile connection.
3 Benefits of backwater valve installation in Toronto, ON
1. Prevents Basement Flooding
Every time there's a sudden downpour in Toronto, your home faces the risk of experiencing sewer flooding. This happens because the rain overloads the main sewer system and leads to a Toronto sewer backflow. Installing a backwater valve stops the sewer water from moving backwards and re-entering your home.
Toronto Backwater valve installation saves you a ton of money on repair costs. Take the unpleasant scenario of the Toronto sewer backflow finding its way into your basement just because you don't have a sewer backflow valve. If that happens, you will have to repair your walls, floors, and any other electronic equipment in the basement.
If you have installed a Toronto backwater valve in your home, you might get a discount on your home insurance premiums. This is because the backflow valve reassures the insurer that you have taken adequate measures to protect your home from a Toronto sewer backflow. In addition, remember to tell your insurer the areas where you installed the backwater valve since the information will be used to calculate your premium discount.
Backflow Valve Installation And Uses
Toronto Backwater valve installation process can be easy if done correctly. First, the plumber has to inspect your waste pipes to determine the most appropriate location for the Toronto backwater valve. Although it is not mandatory for homes to have a backwater valve in Toronto, you may need a permit for the installation.
An important point to remember is that backwater valves are installed in different areas of your home's piping system, such as the basement and other low-level rooms, to serve one main purpose: prevent waste water from flowing back into the house.
How A Backwater Valve Works?
The sewer pipes in your home allow waste to flow out of your house and into the Toronto sewer system. In case the main sewer line becomes overloaded, the backflow valve prevents the waste from flowing back into your home.
Within the backwater valve, there're two tiny flaps that usually open to make sure that waste water flows out of your home. The flap also vents sewer gases out of the house. Attached to the two flaps of the backwater valve are small floating devices that close the folds when the system detects any Toronto sewer backflow. Once the backflow stops, gravity forces the sewer backflow valve flaps to open once again.
Sewer Backflow Prevention
If your house doesn't have a Toronto backwater valve, you should seriously think about installing one just to be safe. Alternatively, if you are a new homeowner or developer constructing your house from scratch, make backwater valve installation a priority. With global warming causing unusual weather patterns around the world, you never know when the rains will cause a Toronto sewer backflow.

A sewer backflow valve is mostly installed to prevent sewerage flooding in your basement. The backwater valve does this by stopping sewer water from flowing back. Depending on your house size and number of valves required, backwater valve installation costs vary – a Toronto backwater valve can cost hundreds to thousands of dollars.
Toronto Backwater Valve Installation Subsidy Program
Backwater value – An underground device that prevent sewage water from flowing back into your residence. MT Drains & Plumbing are licensed and insured by the city of Toronto to install and service backwater valves in you residence.
City of Toronto offers a subsidy of maximum $1,250 for an installation of a backwater valve for your single family home. MT Drains & Plumbing will provide you with the necessary documentation to apply for the subsidy.