Radiant floor heating is one of the best ways to keep your home warm in any climate. It's a cost-effective and energy-efficient solution that provides more space and offers design freedom in your home.
There are two types of radiant floor heating – electric and hydronic – each with its own set of pros and cons. This article focuses on the hydronic system, particularly on how to install hydronic radiant floor heating.
We'll elaborate on how it works, outline the advantages and disadvantages, and guide you through the DIY installation process.
How Does Hydronic Radiant Floor Heating Work
Floor heating is an ancient concept, but modern solutions to this idea have evolved considerably. When it comes to hydronic radiant floor heating, the main advantage is the use of PEX tubing.
Made from flexible plastic, it replaces galvanized steel and traditional copper tubes. Red PEX tubes carry hot water, and that's why they are the go-to choice for hydronic radiant floor installation.
An uncut tube goes through the room floor. It's essential to make sure there are no joints in the tubing because the floor will be sealed. The PEX tubing system is attached to the manifold, which assists in the even distribution of the water.
At the other end of the tubing is a circular pump or a dedicated water heater or boiler, which pulls the water into the system.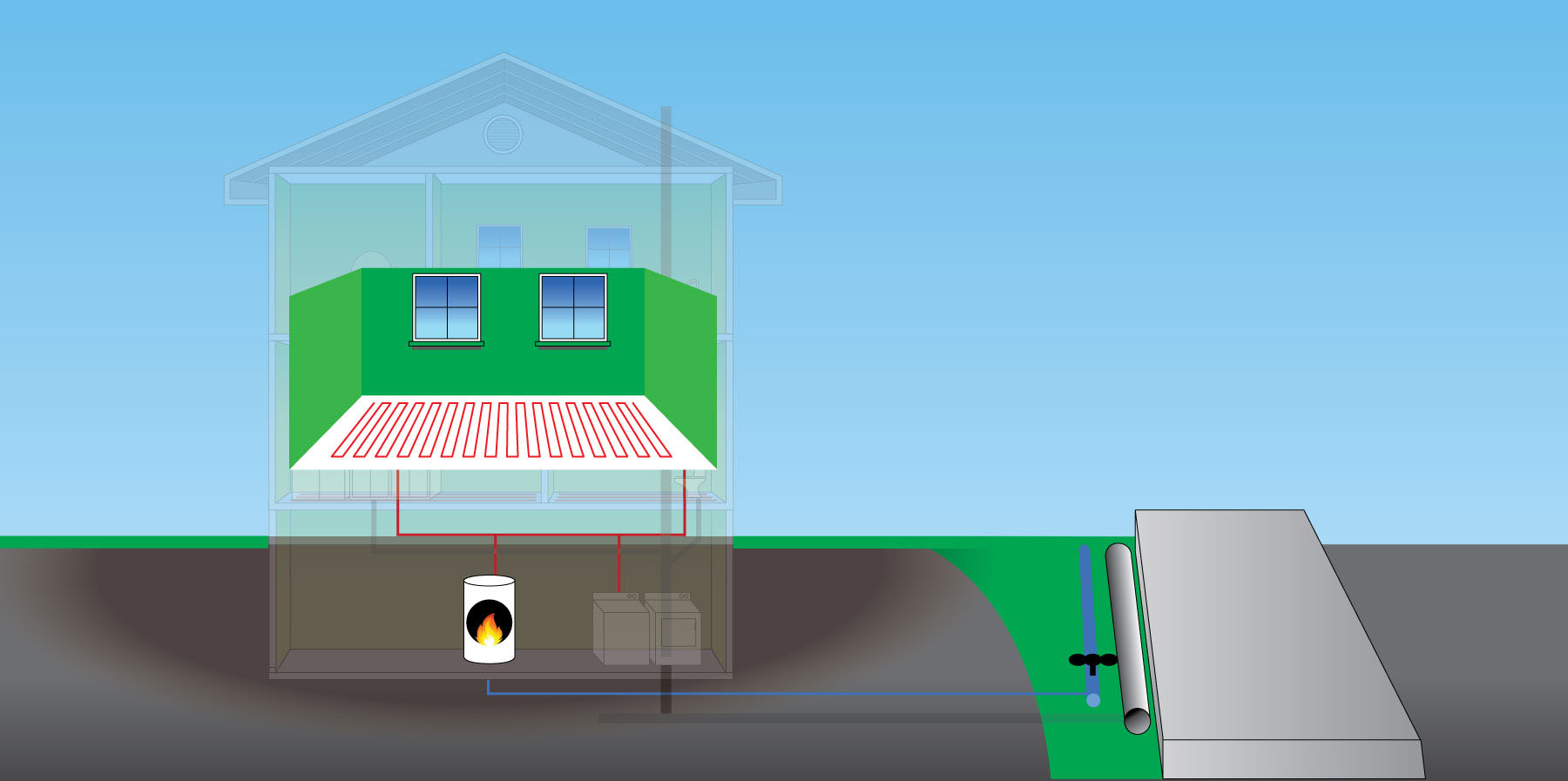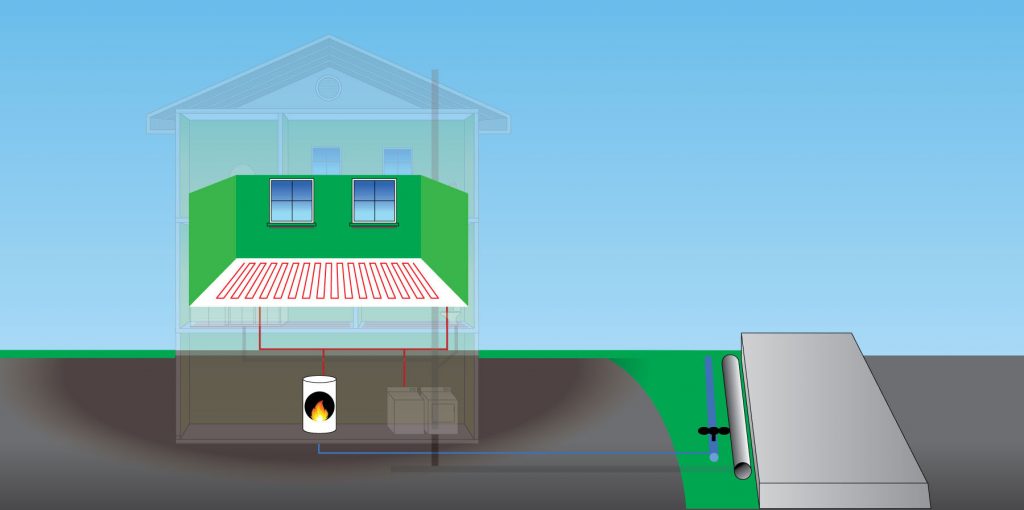 Hydronic Radiant Floor Heating Methods of Installation
Regardless of the type of radiant floor heating installation you're going with, there are two methods you can apply:
This is an older form of modern floor heating system installation, but it's still prevalent today. PEX tubing is placed in the concrete foundation, also known as a slab foundation.
Another option is to embed it into a thinner layer of concrete, called gypsum. However, the thick slab foundation has proven to be an excellent way to store heat, but it has a slow thermal response time.
Innovations in technology have also developed a dry installation method. The PEX tubing is situated in an air space under the floor, which is often faster and easier to build than the slab foundation.
However, because these dry floors require you to heat air space under the floor too, the system must operate at a higher temperature at all times.
Advantages of Hydronic Radiant Floor Heating
One of the major advantages of hydronic radiant floor heating is that you can choose any type of floor covering. You can go with carpet, wood or laminate, vinyl, and even tile and stone.
Another significant point for floor heating, in general, is that there are no sharp and hot edges or surfaces such as external radiators. Floor heating provides more safety and comfort in your home.
Also, hydronic radiant floor heating is effortless to run. Once it's installed, there's very little maintenance, and if you hire a professional installation company, you'll likely get an extended guarantee as well.
Finally, floor heating systems provide more space with no radiators in sight. Your feet will always be warm, and your children and pets will also enjoy the benefits. In terms of design, it gives you an option to pursue minimalism and get a blank canvas room if you want.
Disadvantages of Hydronic Radiant Floor Heating
By far one of the most significant downsides of radiant floor heating is the installation. This is especially true if you're dealing with an existing floor and not starting from scratch.
The process is often time-consuming, particularly if you're going with the DIY approach. Also, the floor heating is inevitably going to raise the floor height, albeit often insignificantly. But if you already have lower ceilings, that could pose a problem.
Hydronic Radiant Floor Heating Installation
Before going through all the steps on how to install hydronic radiant floor heating, keep in mind that you'll likely need significant experience in doing similar work in the past.
The process isn't too complex, but there's plenty of room for error. In this guide, we'll explain the installation process for a new house, but it can be applied to an existing floor as well.
Items you will need are:
PEX tube

A pump

Water heater

Thermostat
Tools you will need are:
4-foot level

Tape measure

Utility knife

Straight edge

Pipe cutter

Wheelbarrow

Shovel
You should design the system first. Perhaps you can get a design print from where you purchased all your supplies. They often have a free layout you can use.
The second step involves providing ample insulation over the gravel base. Then, you can add reinforcement wire, which you can use to tie down the tube.
The next step is to continue laying out the entire space with the PEX tube by following the design. Don't forget that the tube shouldn't have any joints while you're laying it out. It's a good idea to take a photo of the final layout so you can remember exactly where the tube is situated later on.
Now it's time to pour in the concrete. Make sure to test for leaks by tying the pipes together and pressurizing them with air before you do so. The slab foundation should be about 4 inches thick.
The next step is to finish the house if you're building from scratch. If not, you need to set up the utility core for the water heater.
Then, hook up the heating system by connecting it to the thermostat. The relay conveys the message to the system when to start up, and then the pump kicks. Pretty soon, you'll have heat coming from your floors.
Is Hydronic Radiant Floor Heating Right for You?
There are numerous benefits of having radiant floor heating in your home. Apart from never getting cold feet indoors, it's a low-maintenance and cost-effective solution for homes of all sizes.
Ultimately, knowing how to install hydronic radiant floor heating by yourself could potentially save you money, but it can go the other way if you're not sure what you're doing.
We've explained the basic steps in this article, but it's probably best to ask a professional company for help to get the best outcome.