Basement Waterproofing Newmarket & Aurora
Do you have a wet leaky basement in Newmarket, ON? Call us today for a FREE inspection and estimate.
A persistently wet basement in Newmarket & Aurora will cause property damage. Why? Water seeps into basements from a variety of different possible locations. In some cases, it enters the premises through small cracks in the basement foundation or concrete. To obtain effective basement waterproofing, homeowners should take timely measures to repair certain fissures. Water expands as it solidifies. During cold Ontario winters, freezing temperatures may allow water to transform into ice inside damp basement walls. This situation will inevitably enlarge penetrating cracks over the course of time, increasing future water intrusion. Ask MT Drains & Plumbing to help prevent moist, dank basements by providing essential basement waterproofing in Newmarket & Aurora!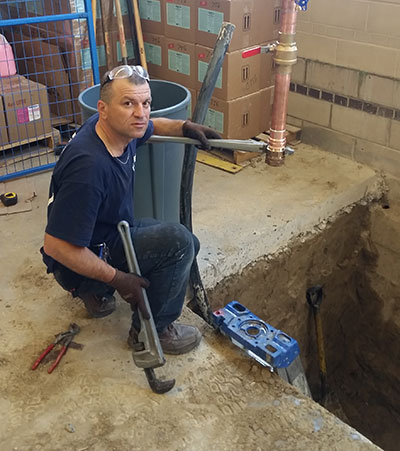 Basement Waterproofing In Newmarket
Basement waterproofing in Newmarket & Aurora preoccupies many local real estate owners. Situated immediately north of Aurora (and fairly close to Lake Simcoe), Newmarket today has witnessed a significant expansion in population. This region of Ontario provides ready access to lakes and streams; Aurora often receives considerable precipitation during the Winter and Spring. Despite this many buildings in Newmarket and Aurora don't have waterproofed basements. Without these waterproofing precautions, structures frequently encounter problems caused by dampness in the lowest levels of homes and businesses. 
Offering 24/7 Emergency Plumbing Services
How Water Leaks Damage Newmarket Basements And Foundations
Our Basement Waterproofing service helps protect residential buildings and their occupants. A chronically wet basement in Newmarket & Aurora potentially causes several different types of problems. First, the enlargement of penetrating basement cracks increases moisture in the lower levels of the building, establishing a destructive pattern of water seepage and crack expansion. Second, as cracks enlarge, they may begin threatening the integrity of the basement (and possibly cause long term structural damage necessitating expensive repairs). Third, if water pools inside the residence, chronically moist conditions promote mold and mildew growth. This problem, in turn, degrades indoor air quality. For all these reasons, residents who suspect their homes have developed basement water leaks should contact MT Drains & Plumbing. Ask us to help supply effective basement waterproofing in Newmarket & Aurora.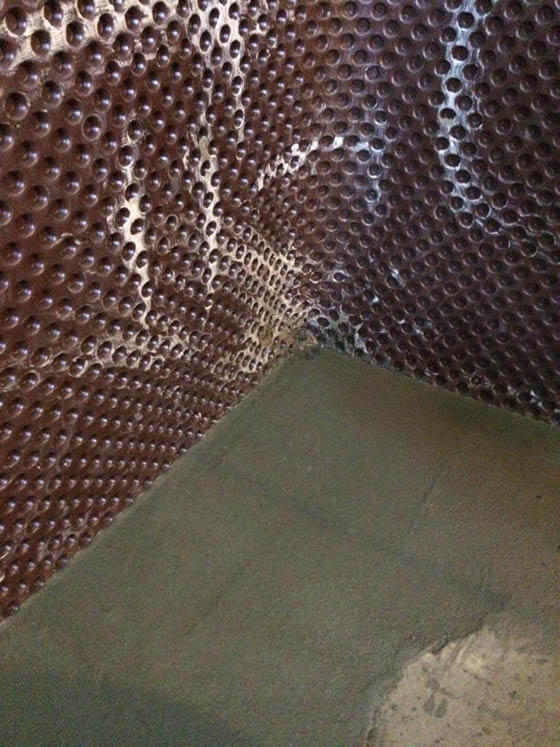 Reviews From Our Happy GTA Customers
Cameron from Richmond Hill
Trusted Pros
We had a leak in the corner of our basement. Pavel examined the area and provided some tips on how to inspect and find the cause. After finding and locating the root of the problem, he provided me with a reasonable solution and reasonable estimate of cost. The work his crew did was professional and clean. I highly recommend Pavel, for I find him professional, reasonable, responsive and cooperative.
Diane from Toronto
Trusted Pros
During the heavy rains in May, water seeped into my basement. I consulted many companies specialising in waterproofing basements and installing back valves. As the 2 jobs involved digging a deep hole, it seemed sensible to choose a company that could do both. The crew arrived promptly and quickly set to work. I had removed all the plants from the working area, so they could start digging immediately. Tarps were spread out to hold the earth excavated and after 1 day the back valve had been installed and trenches dug. On the 2nd day, again, after prompt arrival, the crew quickly set to work.They even dug up a plant that I was concerned about and replanted it later. The work was completed on the 2nd day and it was a large area to dig. I would recommend this company based on my observations of the work they did at my home.
Timothy from Toronto
HomeStars
Pavel and his team did an excellent job in helping me with my leaking basement. They were very responsive and provided honest advice. Two days work was completed in one day and they took great care in keeping the area clean, returning it to its original condition. I would highly recommend MT plumbing!
Pavel was very knowledgable and diagnosed the issue very quickly. The work was completed promptly as agreed. The crew came in and completed the work professionally . Pavel made sure to check everything went well through out the work. I would not hesitate to recommend MT Drains and plumbing to any of my friends.
Thiai from Toronto
HomeStars
I selected this company from several estimates because it seemed to offer a good combination of experienced, professional knowledge and reasonable pricing. It more than lived up to expectations, with work completed exactly as specified, time lines met, custom made window wells designed as requested, and clear communication throughout. I would definitely recommend this company.
Obtain Complete Waterproofing Assistance
Our Basement Waterproofing company Newmarket offers a full range of essential waterproofing services. We possess extensive experience in this field. We'll help repair cracks in basements and protect in-ground windows from water seepage. In some cases, poor yard drainage contributes to leaky basements. We frequently assist our customers by installing French Drains to help channel groundwater away from the premises. Our Aurora Basement Waterproofing team offer a capable, knowledgeable, cost-effective service!
"I Would Recommend MT Drains For Waterproofing"
We had the pleasure of working with Pavel and his team of waterproofers. Our basement wall crack was causing a leak in the basement. Pavel came the same day to investigate the issue, the guys did an amazing job and it like there were never here. I would recommend Pavel for waterproofing and plumbing to everyone.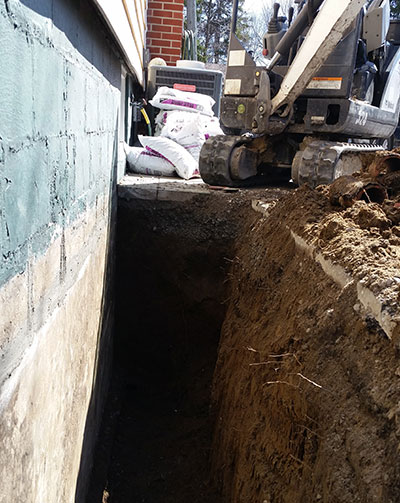 To receive further information about the benefits of basement waterproofing in Newmarket & Aurora, simply contact us for assistance. We serve customers across the Greater Toronto Area. Call us today, or contact us online!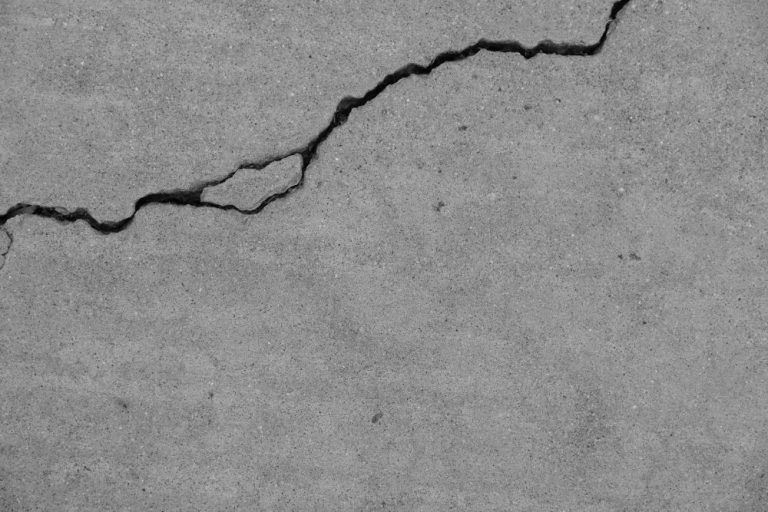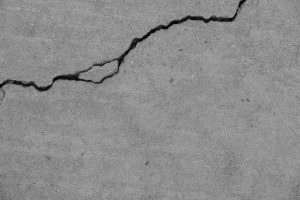 The walls of your basement hold up not just the basement, but also the weight of the building above it. This means your basement walls
Read More »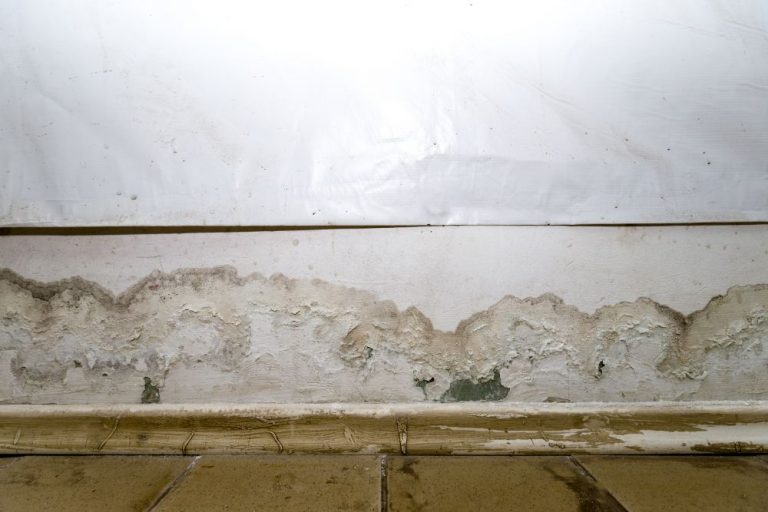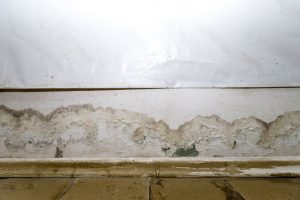 At a glance, basement waterproofing may seem simple, but it isn't always so. Some parts of the basement require special attention when waterproofing or you'll
Read More »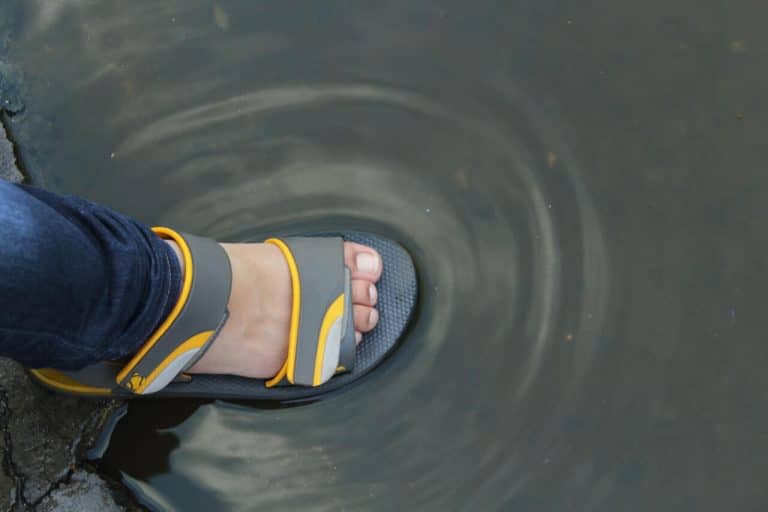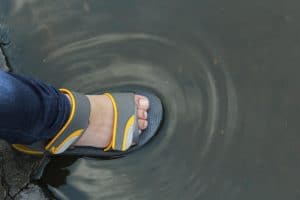 Most large Canadian cities are near water. That includes, but is not limited to, Ottawa, Montreal, Winnipeg, Vancouver, and of course, Toronto. While living near
Read More »
Request a free on-site estimate