Does your driveway develop puddles every time you wash your car? Do you have trouble with standing water on your concrete driveway every time it rains? These symptoms indicate that the surface is not even. If the drainage problem is not fixed on time, it can develop cracks, chips, and holes, and damage your driveway.
Addressing the low spots and puddles on time can save you a lot of time and money. Although it sounds severe, these issues are common among homeowners, and there are a few ways to fix them on your own.
Keep reading to discover several waterproofing approaches and learn how to prevent water from pooling in your drive way.
Jump To Waterproofing Approach
Why Is There Water on Your Driveway?
There are a few reasons why you keep getting puddles on your concrete driveway:
Your driveway wasn't laid properly
Your driveway isn't set up to allow proper drainage
Your driveway slopes down towards your house
Standing water on a concrete driveway can cause severe damage to the surface. Snow or rain that remains on your driveway may lead to discoloration. Water that gets into any holes or cracks in your driveway can freeze during the winter months and expand to make these holes and cracks larger. And damaged driveway sealant is a place where mold and algae thrive. Allowing this to happen may destroy your driveway, leading to expensive repairs (if repair is even an option).
How to Take Care of The Problem?
Mark the areas where water puddles
Place a sturdy object at each end where puddles show up. It is better to do this after rain as you can easily see the problem areas.
Now that you know where the problem areas are, remove any gravel or asphalt that is on the verge of breaking away. Use a broom or brush to clean smaller pieces from your driveway. If your driveway is dirty or greasy, wash it thoroughly.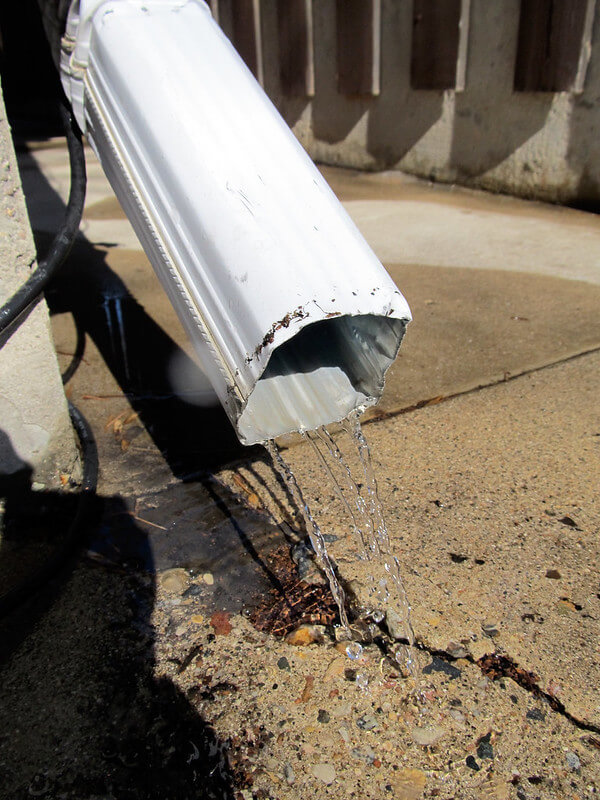 Use a chisel to remove any loose pieces from the problem areas. Once you are done, add one layer of
patching material
to each crack in your driveway. Make sure to follow the instructions since each product has a unique application. To smooth the surface, use a brush and slowly start to roll over the surface. Let it dry before applying emulsified liquid to help bond the patching solution to your driveway. If desired, you can add a driveway coating to speed up the process.
If you can't smooth the surface with a brush, use a driveway roller instead. You can buy or rent one from your local hardware shop. A professional driveway roller will make sure the patching material and coating are sealed to the surface. Drive the roller over the surface to smooth it down. Some homeowners use a hand tamper instead, so if you can't find a professional driveway roller, this is also an option.
Wait for all patches and coating to dry to complete the driveway repair process. It is best to start your repairs when the weather is mild. Professionals recommend doing your driveway repairs during the summer months as patches dry faster. Start in the morning hours and, if necessary, cover your driveway to ensure there are no spots or marks from the sun.
Need Help Getting Water Off Your Driveway?
We offer FREE onsite estimates in Vaughan and the surrounding area
The Importance of Driveway Drainage Systems
If your driveway drainage system isn't working correctly, it may cause low spots and water puddles, which can lead to wearing out the concrete, discoloration, and expensive damage. You may also notice cracks and holes in your driveway, which require proper repair or replacement.
If water finds its way to your home foundation (a common problem when the driveway drainage system is not installed correctly), it may deteriorate your interior, causing a huge problem (which in some cases is impossible to restore).
There are a few excellent options that will allow free drainage and prevent water from pooling in your driveway.
Trench drains
are one of the most common driveway drainage solutions. It is a budget-oriented option and is highly effective. If your problem is getting water away from your house's entrance, a trench driveway drain is an ideal choice.
A combination of
basin and channel driveway drains
is perfect for you if you have a paved surface. Either a basin or a channel can collect water quickly when they are placed near a fence or pool. The biggest difference is in their size and design. A channel drain is suitable for more extensive areas and can protect both your driveway and your garage.
If there is too much standing water on concrete driveway and can't be drained away, it can make a serious flow on your sidewalk. In situations like these, it is best to use dry wells.
A dry well is an underground canister that drains excess water. The pipes are installed around your driveway and lead excess water directly to the dry well. Proper installation of this structure requires finding the ideal location and determining how wide the dry well will be.
When you want to make sure your driveway drainage system is implemented correctly, it is time to call in the professionals. Although small driveway repairs might work okay as DIY projects, major upgrades require professional experience and tools. Relying on experts reduces the stress that comes with fixing water puddles and boosts the chances of an outcome that will enhance the value of your home.
Your driveway is a significant investment, and as any homeowner, you want to protect it from standing water, cracks, holes, and mold.
At MT Drains & Plumbing, we have the skills and equipment to solve your drainage problem. If you are looking for a first-class driveway installation, don't hesitate to call us today. We can design and implement the best water management system to help you avoid standing water on concrete driveway.