MT Drains & Plumbing delivers professional basement waterproofing services to the communities of Newmarket & Aurora, ensuring long-term protection and adherence to the highest standards of the industry. Leveraging over 20 years of expertise, our approach is geared towards addressing waterproofing concerns with accuracy and strategic insight.
Our services are essential for both the residential and commercial properties in Newmarket & Aurora, providing solutions that are both innovative and customized to meet the unique environmental challenges of the region. We prioritize the longevity of your structure's foundation, employing effective preventative measures against water intrusion.
Depend on MT Drains & Plumbing for top-tier, dependable waterproofing services that protect your Newmarket & Aurora property, delivering a secure, moisture-resistant basement poised to withstand time and the elements.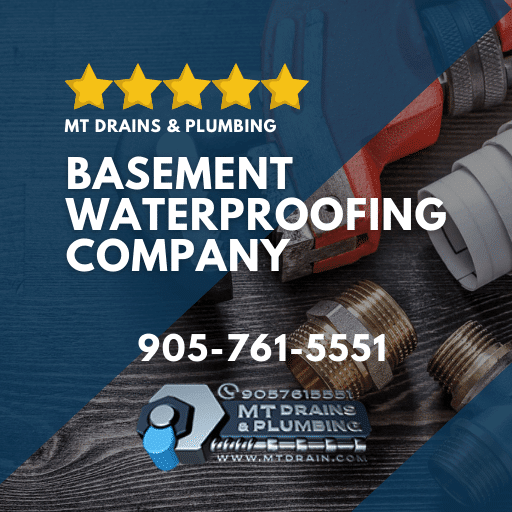 Why Choose Newmarket's Top Waterproofer
MT Drains & Plumbing are fully licensed and insured to provide wet leaky basement waterproofing, drain repair, and general plumbing services. We only use top-quality, guaranteed materials and offer guaranteed waterproofing workmanship.
Our expertise and over 20 years' experience in the field means that we know what products, methods, and applications work best for your home. Trust us to offer:
All of our plumbers are both licensed and insured
We tackling the root cause of issues rather than mere symptoms.
30 years in the field, our expertise is your asset
Our glowing reviews speak for themselves. Your satisfaction is our priority.
Insured and Licensed Water Proofers
For over 30 years, MT Drains & Plumbing has been serving Newmarket, Aurora, and neighboring areas with exceptional basement waterproofing services. Our team of skilled professionals provides honest advice and reliable workmanship to safeguard your home or business from water damage. Our licensed and insured plumbers are committed to providing peace of mind to our clients.
Furthermore, we offer a 30-year transferrable guarantee on all our waterproofing work, ensuring that you won't have to worry about any additional expenses once we've completed the job.
When it comes to basement waterproofing and crack repair services, you can trust the experienced professionals at MT Drains & Plumbing. Our local team is dedicated to providing prompt and reliable solutions for all your basement-related needs.
Comprehensive Waterproofing Services Tailored to You
We recognize that every property has distinct waterproofing requirements. Our comprehensive waterproofing services cater to a variety of needs, from preventive measures to resolving complex moisture issues. Utilizing advanced technology and leveraging the expertise of our skilled professionals, we're equipped to tailor our waterproofing solutions to effectively address the unique challenges of your home or business.
#1 Waterproofing Company in Newmarket
Pavel and Eddy lead the way at MT Drains & Plumbing in the Greater Toronto Area, renowned for their commitment to excellence in basement waterproofing and weeping tile installation. With a wealth of hands-on experience and unmatched technical know-how, they ensure every project meets the highest industry standards. Opting for our services means more than just solutions—it's about securing your property's foundation and drainage system. As issues surface, whether it's water seeping into your basement or the need for an efficient drainage system, rest assured knowing Pavel, Eddy, and our adept team stand ready to assist.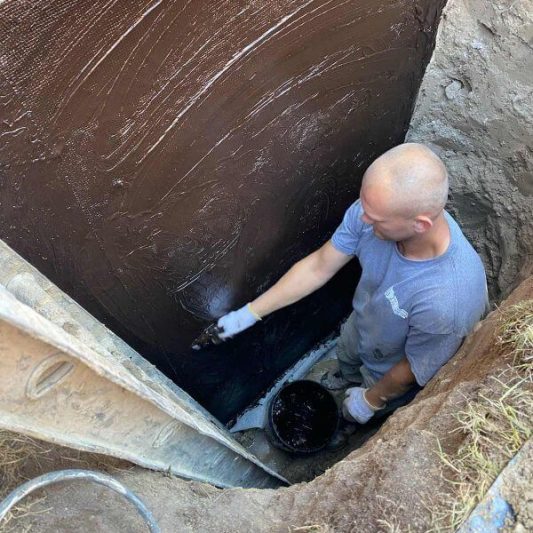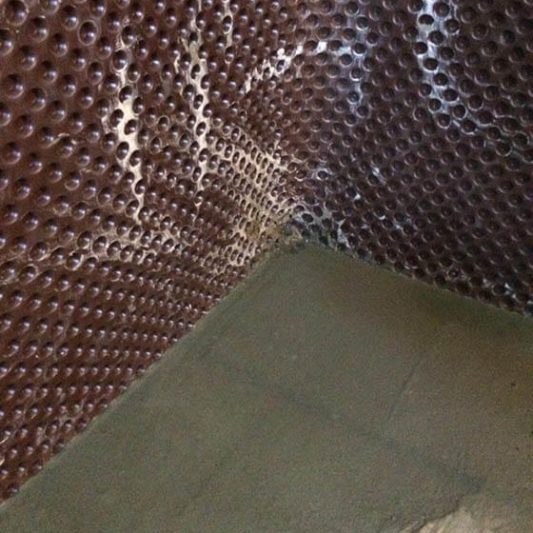 Benefits to Basement Waterproofing in Scarborough
Excess water and flooding cause a range of issues, including black mould growth and extensive structural damage. Basement waterproofing prevents these potential problems and preserves the integrity of your home.
Other essential benefits include:
Higher energy efficiency and lower heating and cooling costs
Healthier, cleaner home environment
Prevention of costly structural damage
Reduction in home insurance premiums
Basement floor protection
Sump pump protection
Speak to our professionals today to learn more about our basement waterproofing services.
Basement Waterproofing FAQ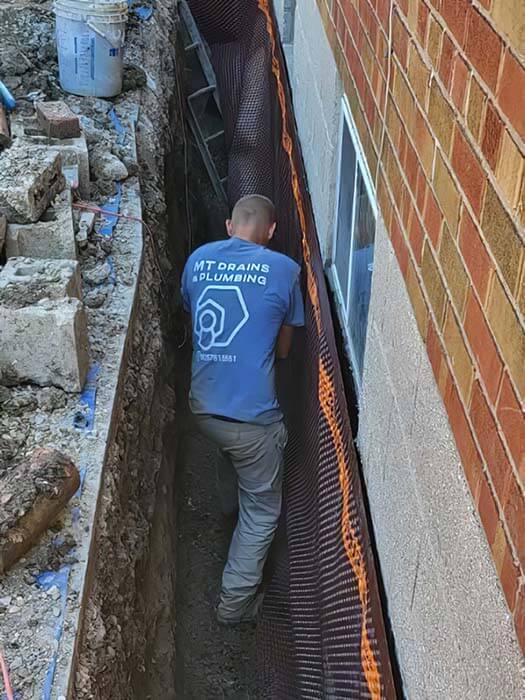 Interior vs. Exterior Waterproofing
The waterproofing services you'll need depend on the source of the water causing your problems.
External basement waterproofing services help to contain external water leaks from flooding or hydrostatic pressure changes. To solve these problems, our experts will recommend one or more of the following procedures:
Plastic membranes and sealant installation – an invisible sealant or plastic membrane applied to your foundation walls to keep out water
Foundation waterproofing – reinforcement of the ground around your home to direct water away from the basement walls
Downspout installation – downspouts connected to your sewer system to avoid water pooling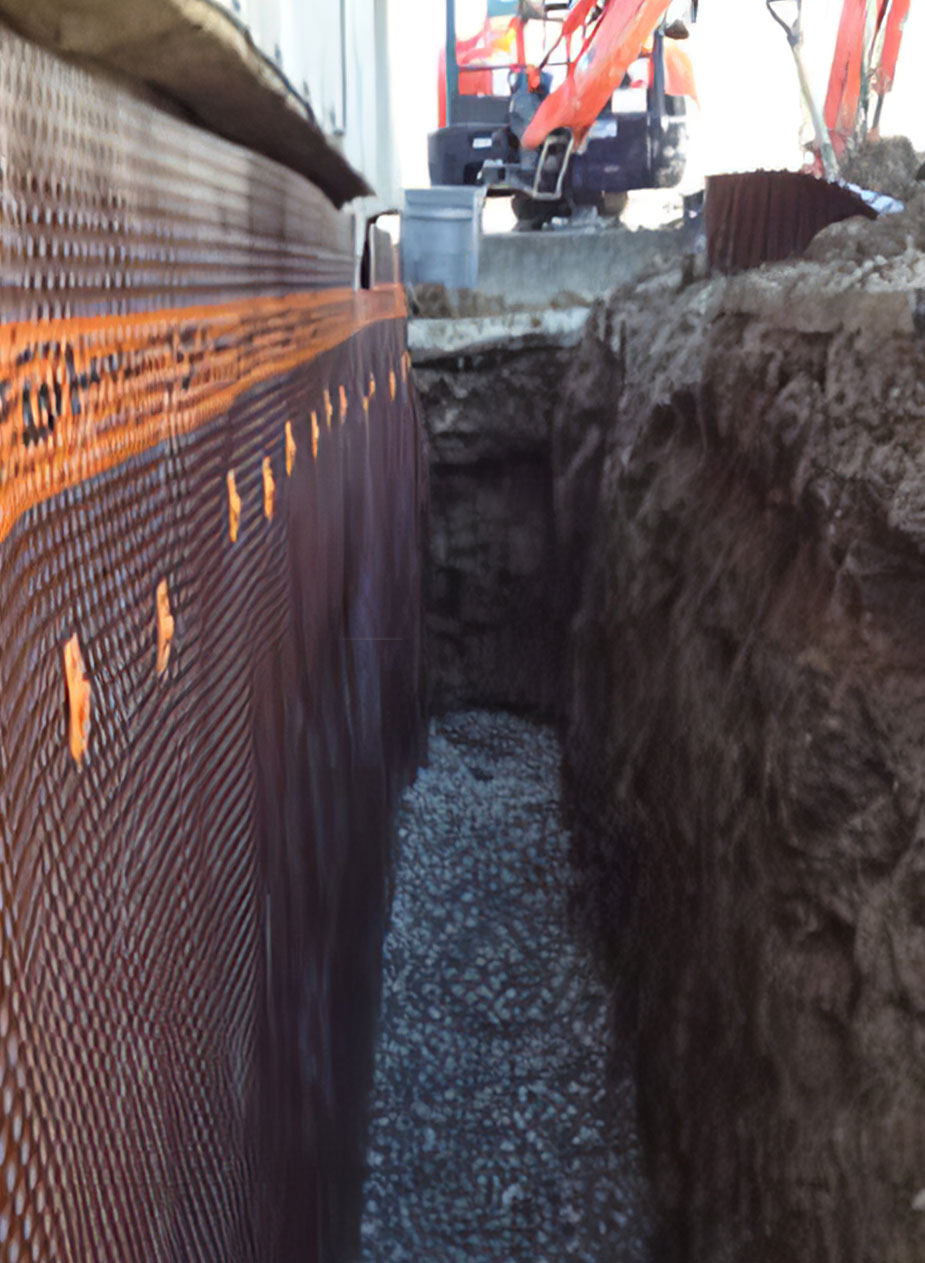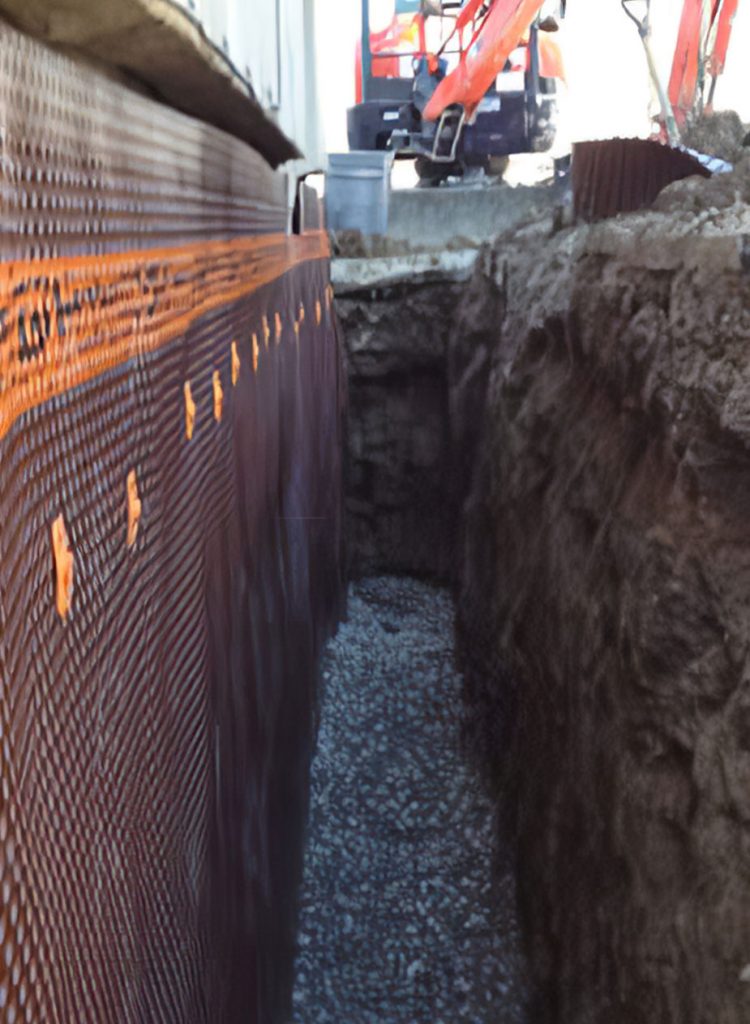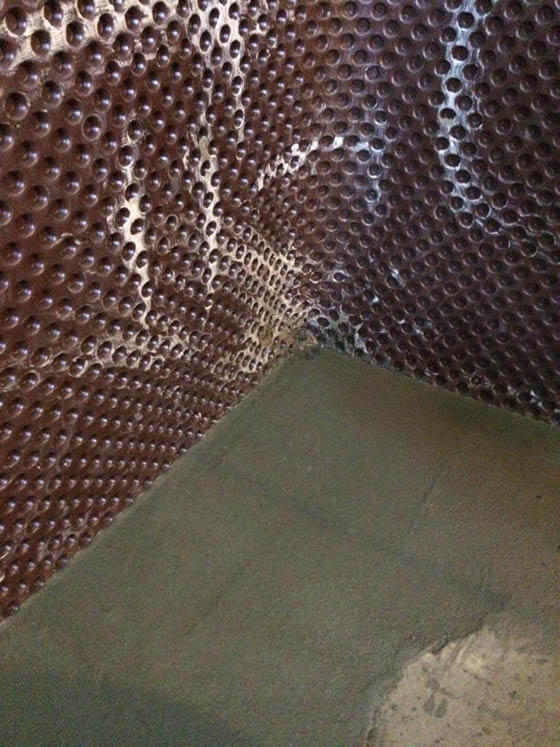 Interior Waterproofing in Newmarket & Aurora
Interior basement waterproofing acts to keep water away from your basement. If our experts determine that the source of your water leak is internal, they'll recommend:
Concrete construction – to reinforce your interior basement wall perimeter
Backwater valve installation – to stop sewage from backing up into your basement
Sump pump installation – to collect and redirect water away from your home through a discharge pipe
Please don't wait to experience an emergency. Contact MT Drains & Plumbing experts to identify potential problems early before they cause significant water damage.
Need Help With Waterproofing in The Newmarket & Aurora Area?
Newmarket's Wet Basement Repair Specialists
At MT Drains & Plumbing, we install basement waterproofing solutions that protect homes in Oshawa and the surrounding areas. Our water control solutions are first-rate and surpass many of the solutions currently offered in the market.
From excavating the exterior foundation walls and waterproofing the foundation wall, all our solutions work to enhance drainage and reduce water pressure on your walls. We also offer interior basement waterproofing services that reinforce the interior perimeter of your home with innovative concrete construction solutions and sump pump installation.
Contact us to learn more about our wet basement prevention and repair services to keep your home protected from all types of water problems.
Sump Pump Installation & Repair
MT Drains & Plumbing technicians are highly-skilled in sump pump installation and repair. Sump pumps prevent stormwater from flooding your basement. Therefore, regular maintenance is vital to protecting your home.
We will install a sump pump if your home doesn't have one to protect your basement from internal water leaks. We can also make sure that your existing sump pump is working as it should in preventing water damage. Should a break down occur unexpectedly, contact us 24/7 to attend to emergency repairs.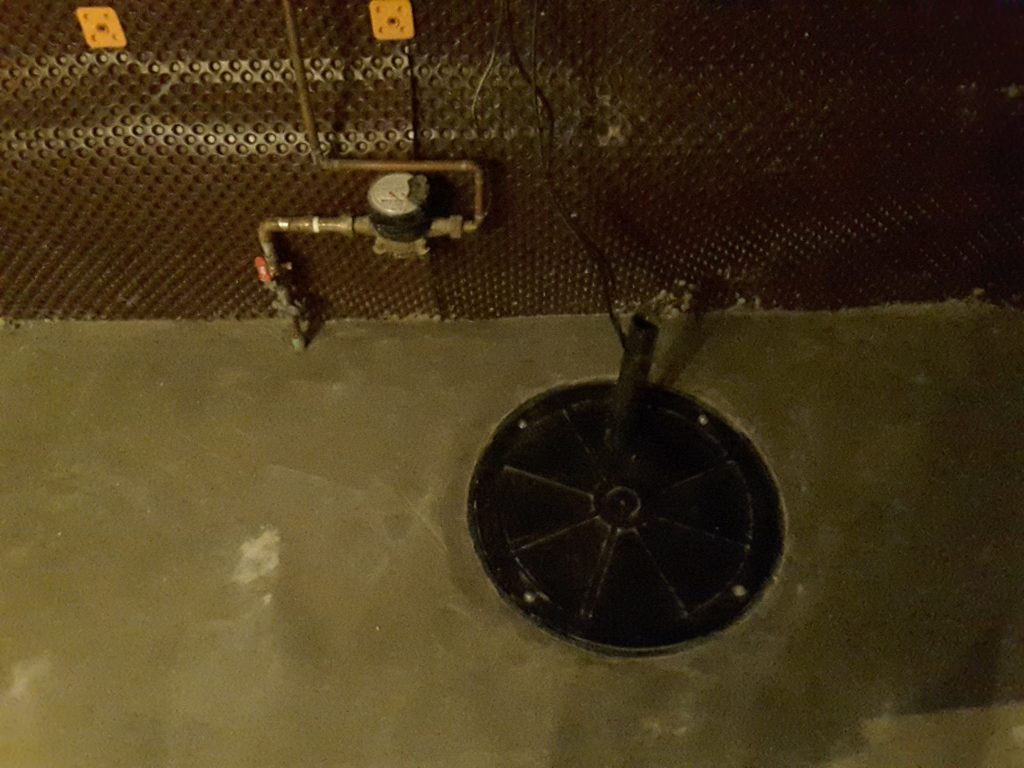 Get A Free On-Site Estimate
MT Drains & Plumbing are the expert waterproofing and foundation crack repair contractors in Newmarket, Aurora, Oshawa, and the surrounding areas. We provide internal and external basement waterproofing solutions backed by 25-year transferable lifetime warranties.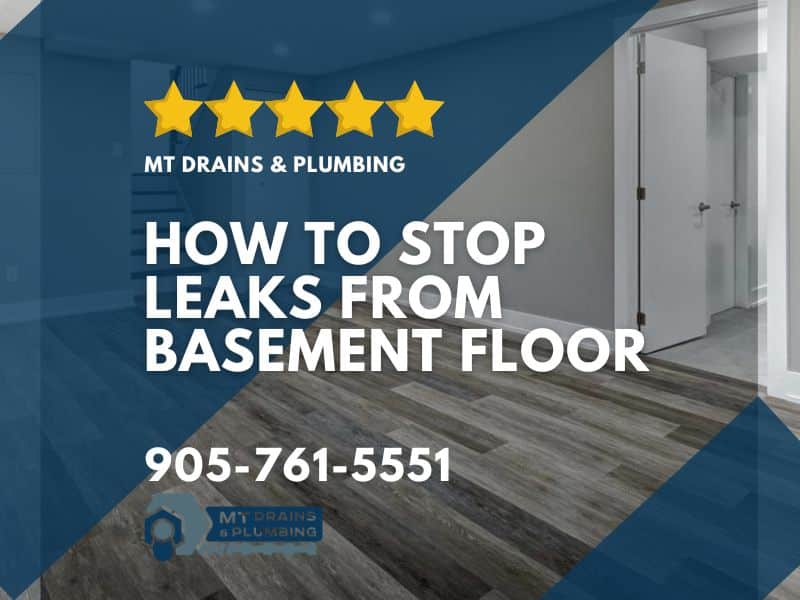 In this article, we explore the crucial importance of waterproofing your basement, including the signs to look out for, the common causes of basement floor
Read More »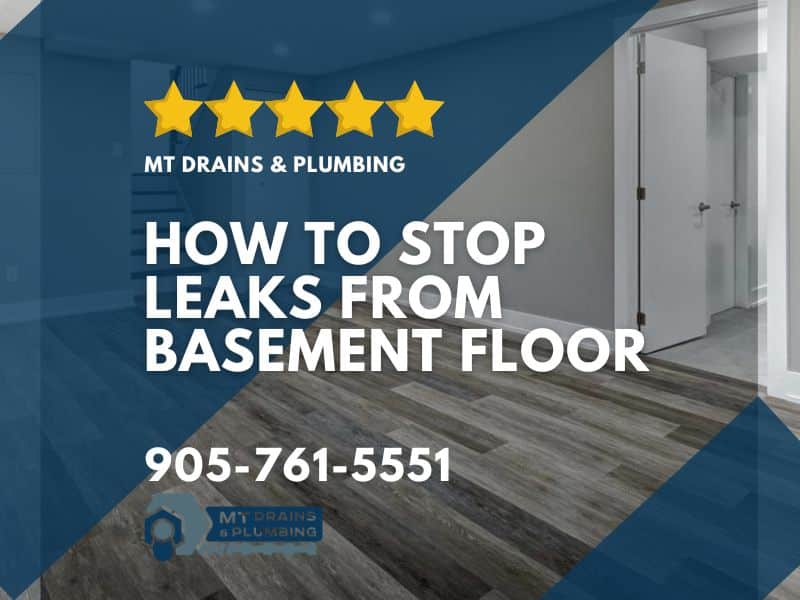 You expect most leaks to come from the bathroom or kitchen, but they can also originate from your basement. Since it's located below ground level,
Read More »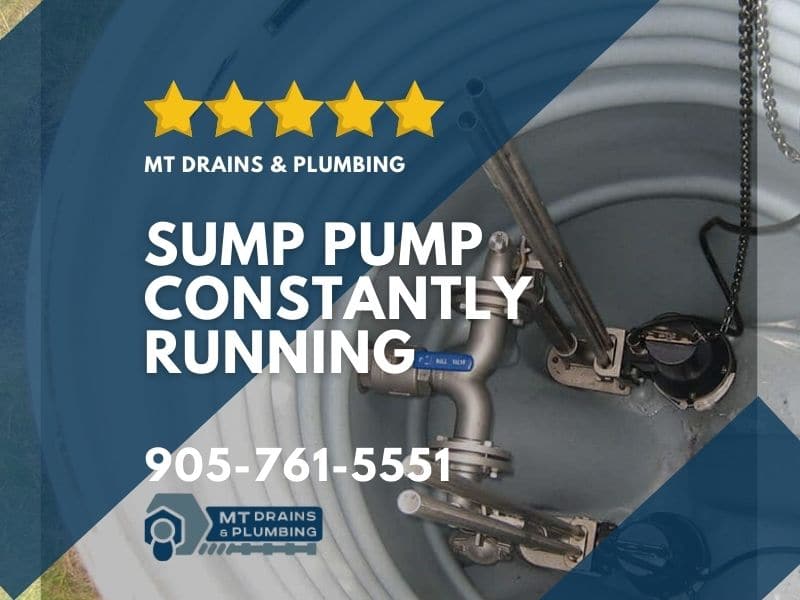 Do you find your sump pump constantly running for no apparent reason? If so, you're not alone. This is a common problem that can stem
Read More »
Request a free on-site estimate