At MT Drains & Plumbing, we take pride in offering comprehensive backwater valve installation services in Newmarket to safeguard your home from backwater flooding. Our expert technicians are experienced in protecting your property from costly water damage by installing high-quality backwater valves.
Our team understands the unique challenges of preventing backwater flooding in Newmarket, and we only use top-of-the-line materials and equipment to ensure a correct and efficient installation of your backwater valve. We tailor our solutions to meet your specific needs after assessing the requirements of your property.
To make our services more accessible to homeowners, the City of Newmarket provides a subsidy program that can assist in covering the cost of installing a backwater valve. This program offers financial assistance to homeowners who have faced basement flooding due to severe weather conditions and are taking preventive measures to avoid future incidents.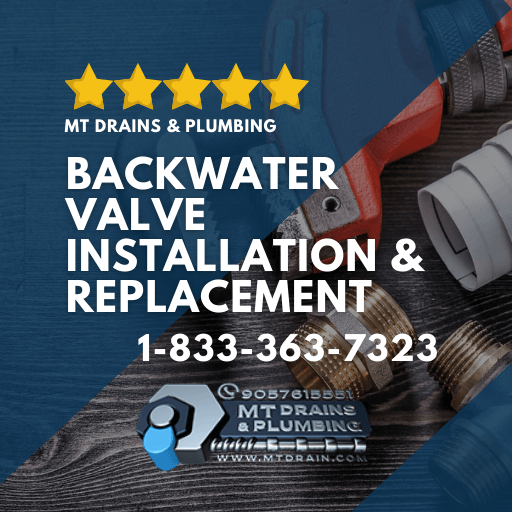 Protect your home from backwater flooding that may compromise its safety and integrity. Contact us today to learn more about our backwater valve installation services in Newmarket and how we can assist you in preventing costly water damage. Don't forget to check out the Newmarket Flooding Subsidy Program for further information on this financial assistance opportunity.
3 Benefits of Backwater Valve Installation in Newmarket, ON
1. Prevents Basement Flooding
Heavy rainfall in Newmarket can easily overload the sewer system, causing water or sewage to backflow into your basement. However, with a properly installed backwater valve, this can be prevented. The valve automatically closes when the sewer system becomes overloaded, stopping any water from entering your home.
A backwater valve can also save you money in the long run. Without one, any sewer backup could lead to expensive repairs, including replacing damaged walls, floors, and belongings. Installing a backwater valve can help prevent such damage, saving you from costly repairs and replacements.
Installing a backwater valve could also qualify you for a discount on your home insurance premiums. This is because it shows your insurer that you have taken necessary measures to protect your property from potential sewer backflow. Make sure to inform your insurer about the installation and the areas covered to take advantage of any available discounts.
Request a free on-site estimate
Expert Backwater Valve Installation And Uses
Installing a backwater valve in Newmarket is an essential step to protect your home from sewer backflow and the resulting costly water damage. However, it is important to have it done correctly by an experienced drainage technician. The technician will inspect your waste pipes to determine the most appropriate location for the valve installation to occur. Depending on where your home is located, installing a backwater valve may require a permit.
It's important to note that backwater valves are installed in different areas of your home's piping system, including the basement and other low-level rooms. This prevents wastewater from flowing back into the house, which can result in significant damage to your home's walls, floors, electronics, and valuables kept in the basement.
At MT Drains & Plumbing, we have the knowledge and expertise to install high-quality backwater valves that can prevent costly water damage and protect the safety and integrity of your home. Our experienced technicians use only the highest quality materials and equipment to ensure that your backwater valve is installed correctly and efficiently. Whether in your current home or one under construction, we can assist you with your backwater valve installation needs.
How A Backwater Valve Works?
The backwater valve is an essential plumbing device that prevents waste from flowing back into your home through the pipes connected to it, especially when the main sewer line becomes overloaded. The valve comprises of two small flaps that allow wastewater to flow out of your home and vent sewer gas out of the house. The flaps are equipped with small floating devices that automatically close the flaps when the system detects any sewer backflow. This action helps prevent the waste from entering your home. Once the backflow stops, gravity forces the waste to return to the sewer, ensuring that your home is protected from sewer backup.
How Much Does it Cost To Install a Backwater Valve?
The cost of installing a backwater valve in Newmarket can vary based on several factors such as the type of valve, the location of the valve, and the complexity of the installation. On average, the cost of installing a backwater valve ranges from $1,500 to $3,500. This includes the cost of materials and labor. However, in some cases, the cost can be higher or lower depending on the specific circumstances of each project. It's best to contact a professional plumbing company such as MT Drains & Plumbing for a more accurate estimate tailored to your specific needs. Our team of experts will assess your situation and provide you with a detailed quote that takes into account all the relevant factors.
Save Upto $500 on Newmarket's Backwater Valve Installation Subsidy
Newmarket residents worried about basement flooding can save up to $500 through Richmond Hill's Backwater Valve Installation Subsidy. This subsidy is part of the city's Basement Flooding Protection Subsidy Program, which provides eligible residents with up to $1,500 to cover the installation of a backwater valve. This program aims to help residents minimize the risk of basement flooding caused by severe weather events. If you are uncertain about whether you qualify for the subsidy or need help with the application process, MT Drains & Plumbing is a reliable plumbing company that can offer guidance. Their team can assist you in determining your eligibility for the subsidy and walk you through the application process.