The pipes in Toronto households and commercial properties can freeze due to extremely low temperatures in the winter. As a result, residents can be left with no water, burst pipes, or extensive property damage.
But there is some good news: MT Drain has the knowledge and expertise to perform professional pipe thawing services across the Greater Toronto Area. We've been offering prompt frozen pipe thawing services for years and have a portfolio of thousands of happy customers. So, if you're aware of the issue, simply dialling our number will put you in touch with a professional who can thaw your frozen pipes quickly enough to prevent further damage.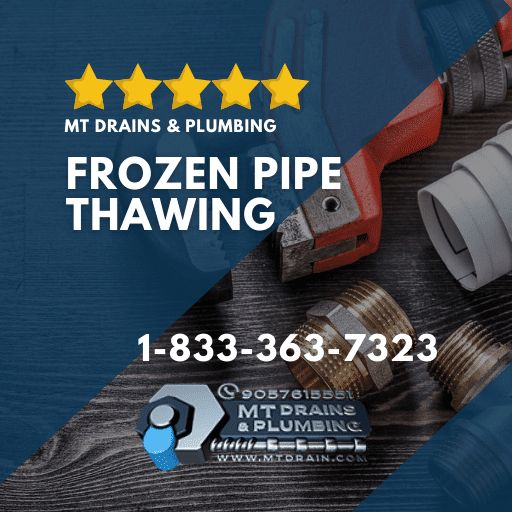 Even well-protected pipes can end up freezing during cold weather, especially if the system isn't used while the weather initially plunges. It is important to let any pipes that you are concerned about run for some time so that water is not given a chance to stagnate and freeze, particularly externally exposed pipes.
Thawing frozen pipes properly is key to maintaining the entire system during winter. Often the methods used by homeowners to try and thaw their pipes is incorrect. These can be dangerous to yourself and others within your home, and it can damage the pipes leading to other major impacts on your plumbing system. Home remedies including torches and other fire sources are not to be used when addressing these issues.
When attempting frozen pipe thawing, it's best to call on plumbing experts who are experienced in dealing with the changing weather that the Greater Toronto Area experiences. This way, instead of creating a huge problem attempting to melt ice on your own, experts ensure that your system is repaired properly.
Burst or Blocked Pipe? Call Now
A burst or blocked pipe is a common consequence of the water flowing through them freezing. Frozen water in the pipes that starts melting due to a rise in temperature can burst because of the pressure of the water that gets between the ice in the pipe and the closed faucet. If your drain is fully blocked, you might need advanced unclogging tools to get rid of the problem.
Regardless of the type of emergency, don't want until it's too late. Frozen pipe emergencies need to be taken care of ASAP. Shut off your main water valve and call MT Drains immediately. We'll make sure to send the professionals to the site quickly.
Frozen Pipe Thawing: About the Service
MT Drain specializes in draining, plumbing, and waterproofing services, including frozen pipe thawing. Residents of Toronto who face a frozen-pipe situation can contact us for prompt service at any time.
The frozen pipe services offered by MT Drain include frozen pipe thawing and repair, emergency pipe thawing, burst pipe repair, preventive measures for keeping the pipes from freezing, and pipe defrosting.
Should you require a service type that's not on the list, give us a call, and we'll figure out a solution.