Waterproofing Company Reviews in Toronto, ON

Lynne Wilson
Basement leak repair
We had the pleasure of working with Pavel and his team of waterproofers. Our basement wall crack was causing a leak in the basement. Pavel came the same day to investigate the issue, the guys did an amazing job and it like there were never here. I would recommend Pavel for waterproofing and plumbing to everyone.
Toronto Basement Waterproofing
MT Drains & Plumbing offers full-service basement waterproofing in Toronto, Ontario. This lovely community includes many buildings with concrete or masonry basements and foundations. Homeowners obtain numerous advantages by ensuring the lower levels of residences do not sustain damage from leaking water. Rely on our company to help transform a wet basement in Vaughan into a dry, comfortable living space!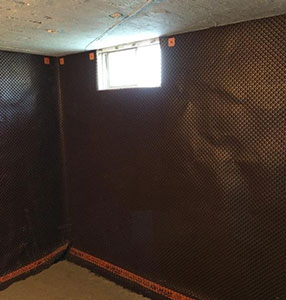 Internal Basement Waterproofing Company in Toronto, Ontario
For example, our firm offers a variety of services designed to promote more effective internal
basement waterproofing
in Toronto. As a plumbing company, we possess expertise in this specialized field. We frequently assist customers by installing interior basement drains.
Customers also rely on us to install, maintain, and replace
sump pumps
. These useful improvements help prevent water from collecting in puddles in the lowest levels of dwellings and businesses. Simply utilizing a sump pump (and, frequently, a second emergency sump pump system) may help avoid unwelcome basement flooding in some locations. Customers count on us to provide dependable sump pump services.
External Basement Waterproofing in Toronto
Additionally, we help property owners achieve more effective basement waterproofing in Toronto by reinforcing the features designed to safeguard basement exteriors. Does your home include in-ground windows? If so, consider asking us to install basement window wells to help protect the window frames (and the basement) from water intrusions during the wettest periods of the year.
Our Toronto waterproofing company also offers vital assistance to homeowners in this community by helping to control yard drainage. For instance, we frequently install French Drains. This ancient technology helps direct water away from a residence or business. Simple yet elegant, French Drains sometimes prevent unwelcome basement flooding very cost-effectively.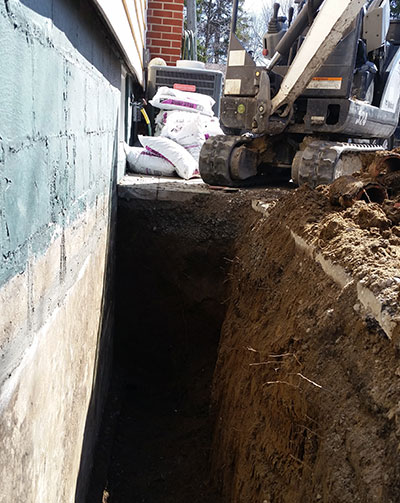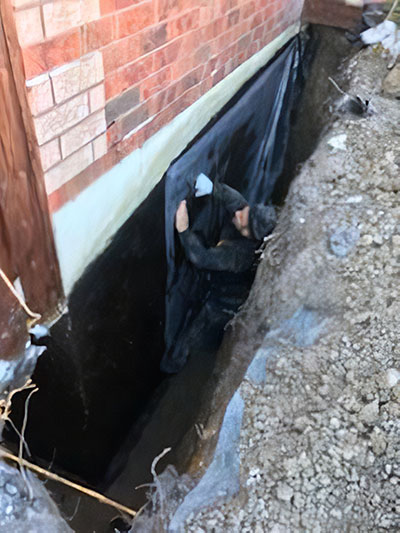 My Basement in Toronto Has Become Wet, Cold, And Moldy: Why?
If you've ever had a persistently wet basement repair in Toronto, you probably already appreciate the vital importance of waterproofing services! Dampness in basements and crawl spaces contributes to chill conditions. It may cause poor interior air quality. MT Drains & Plumbing specializes in helping our customers secure dry, more comfortable living spaces. We realize a cold, wet, dank basement can serve as a focal point for the spread of molds and mildews through residential property.
Our Toronto waterproofing company strives to help people enjoy a better quality of daily life. We seek to prevent water from leaking into basements, foundations, slabs, crawl spaces, in-ground windows, and other interior parts of homes. Our extensive experience in this field assists our clients.
Frequently, homeowners in this region need our help in order to implement effective basement waterproofing. We want you to enjoy a dry, comfortable residence. To request our services, simply contact us online or by telephone. We look forward to speaking with you!