Weeping tiles are an essential yet often overlooked part of a home's drainage system. This simple, yet effective solution plays a crucial role in diverting excess water away from your home's foundation, thus safeguarding the structural integrity of your property. Proper installation and maintenance of weeping tiles can protect your home from potential water damage such as basement flooding, damp walls, and costly structural issues.
Located in Scarborough, MT Drains & Plumbing is a leading provider of weeping tile installation services, backed by more than three decades of experience in the field. Our team of dedicated professionals is committed to delivering top-quality service, ensuring your home's drainage system operates efficiently, and your property remains secure and dry.
We utilize our comprehensive understanding of local soil conditions, building regulations, and advanced installation techniques to provide tailored solutions that meet the unique needs of each property. Whether you're building a new home or seeking to improve the drainage of your existing property, MT Drains & Plumbing is here to ensure you receive the best weeping tile installation services in Scarborough.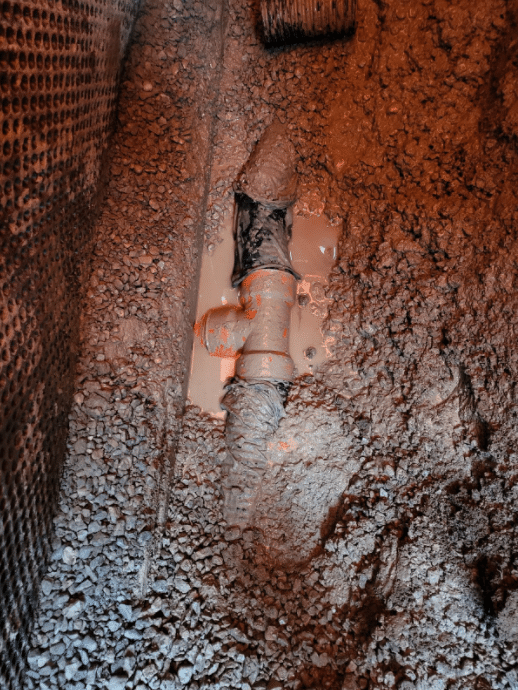 The Role of Weeping Tiles in Your Home
Weeping tiles are a type of drainage system installed around the perimeter of your home's foundation. Their primary role is to collect excess groundwater and redirect it away from your property, protecting your basement from potential flooding and water damage. A correctly installed weeping tile system can help maintain the structural integrity of your home, as well as protect the health of your family by preventing the growth of harmful mold and mildew.
Professional Weeping Tile Installation by MT Drains & Plumbing
MT Drains & Plumbing has been providing reliable and professional weeping tile installation services in Scarborough since 1991. Our team of licensed and insured professionals are experienced and knowledgeable in all aspects of weeping tile installation.
We begin by assessing your property to determine the most effective drainage solution. We then ensure the system is installed correctly, paying careful attention to details like the slope of the tiles, the quality of the backfill, and the correct placement of the filter cloth. Our objective is to ensure your weeping tile system operates optimally and provides long-lasting protection for your property.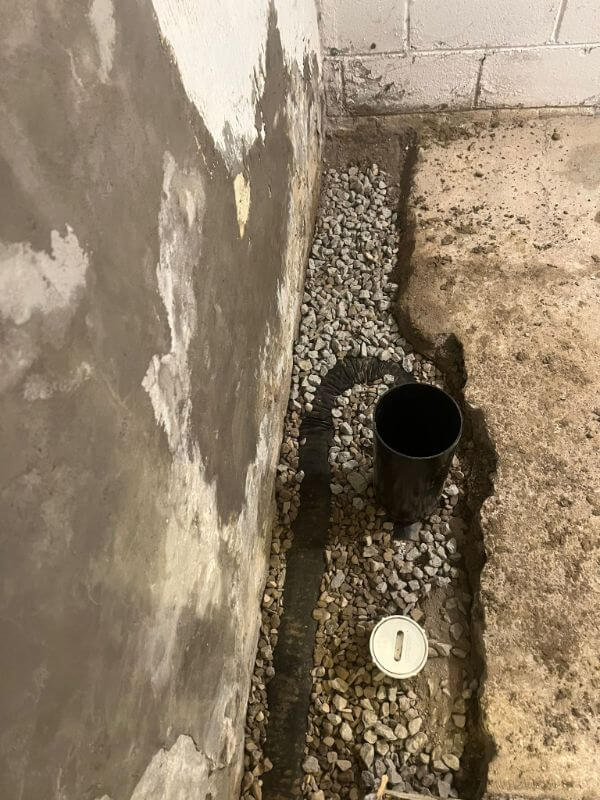 Why Interior Weeping Tile Installation Makes a Difference
Obviously, the positioning of the weeping tile during drain tile installation significantly affects the results. An experienced waterproofing contractor places perimeter tile carefully in order to optimize the flow from a new underground drain. When a drain issue (or the lack of sufficient drainage) has contributed to water pooling in lower levels of a home, interior weeping tile offers a powerful corrective tool.
It greatly assists in the development of effective residential drains. Homeowners need to weigh the expenses associated with drain tile installation carefully. Compare this cost against the potentially severe losses caused by the absence of french drains and interior basement drains.
Weeping Tile Services Cost in Scarborough?
The final cost of weeping tile services may fluctuate based on various factors that are unique to your home and the project's extent. Here's a look at some elements that might influence the overall expense:
Weeping Tile System Type: There's a broad spectrum of weeping tile systems available, and naturally, the more sophisticated ones carry a higher price tag.
Home Size: Larger homes necessitate a greater volume of weeping tile materials and more extensive labor, thereby increasing the costs.
Home Location: The geographical position of your home and accessibility issues can also affect the project cost, with challenging locations requiring more effort and time.
Soil Type: The nature of the soil surrounding your home can also contribute to the installation difficulty. For instance, heavier or denser soils might necessitate more in-depth excavation.
On average, in Scarborough, ON, the pricing for weeping tile services can range anywhere from $2,000 to $10,000. This variation is highly dependent on the project's scope and your home's specific requirements. Here's a rough cost breakdown for common weeping tile services:
Weeping tile installation: $3,000 to $8,000
Weeping tile repair: $500 to $3,000
Weeping tile cleaning: $300 to $1,000
Please remember, spending on weeping tile work is an invaluable investment in safeguarding your property from water damage and potential foundation issues. After a thorough consultation and home evaluation, our expert team can provide a more precise estimate tailored to your needs.
Please contact us today to arrange a consultation and discover more about how our weeping tile services in Scarborough, ON, can help protect your home from water-related damage and excessive moisture.
"Never in my life have I experienced a better contractor"
Pavel and his team are by far the best contractors I have ever worked with. I had a sump pump and back valve and main drain issue. He came and fixed everything in one day – the work was done perfectly and at a very reasonable price compared to other industrial plumbers. Since then there have been a few other issues that I have called Pavel about. He is always around to answer his phone – and he always stops by almost immediately to help. Never in my life have I experienced a better contractor. I very highly recommend Pavel and his team!
Weeping Tile Repair & Maintenance in Scarborough
Ensuring the optimal functionality of your home's weeping tile system is key to protecting your property from potential water damage and maintaining your home's foundation integrity. MT Drains & Plumbing is proud to offer a comprehensive suite of weeping tile repair and maintenance services in Scarborough to keep your system performing at its best.
Our seasoned team brings a wealth of experience in tackling a diverse range of weeping tile repair and maintenance tasks. Committed to quality, we utilize top-grade materials and state-of-the-art equipment to guarantee your system functions as it should. Regardless of whether you require minor fixes or a total revamp of your weeping tile system, our experts are equipped to deliver impeccable results.
Beyond repair and maintenance, we also conduct routine inspections to ensure your weeping tile system remains in peak condition. Our skilled team can thoroughly assess your system and propose necessary repairs or upgrades, all in the interest of preserving your home's safety and dryness.
Don't leave your property's protection to chance. Reach out to us today to discover more about our weeping tile repair and maintenance services in Scarborough, and let us assist you in maintaining a home that's safe from water damage and foundational issues.
When Do I Need Weeping Tile Work Done?
If your home in Scarborough, ON, is showing signs of water damage or excess humidity, it might be time to consider the benefits of weeping tile services. MT Drains & Plumbing offers a comprehensive range of weeping tile repair and maintenance solutions designed to secure the dryness and safety of your home.
Our expert team is unwavering in their commitment to delivering trustworthy and efficient weeping tile solutions for homeowners in Scarborough, ON. We utilize top-quality materials and advanced equipment, ensuring your weeping tile system works effectively, offering enduring protection against water damage and foundational problems.
Whether your weeping tile system requires minor adjustments or a complete overhaul, our skilled team has the necessary tools and expertise to guarantee a job well done. We also provide regular inspection and maintenance services to ensure that your system is operating optimally, offering valuable advice on any necessary repairs or upgrades.
Don't allow water damage to undermine your home's safety and structural integrity. Get in touch with us today to learn more about our weeping tile services in Scarborough, ON, and discover how we can help safeguard your home from the ill-effects of water damage and excess moisture.

Waterproofing review in Scarborough
"We had leaks in basement and drains backing up. Pavel from MT Drains came immediately to fix the problem… Pavel was very accommodating and made sure our business was not interrupted. Thank you for all your excellent work!"
Scarborough's Most Reliable Waterproofing Team
We have been providing weeping tile and waterproofing services to residential and commercial customers in the GTA and Simcoe County since 1991. Whether you need weeping tile repair or installation services MT Drains & Plumbing offers top-shelf service at an affordable price.
You can contact us any time by calling us at 1-833-363-7323.