If you need drain repair in Richmond Hill, ON, MT Drains & Plumbing is the contractor to call.
For the past 20 years, we've consistently offered high-quality plumbing, waterproofing, and drain repair services to private residences and commercial enterprises. Our commitment and dedication to customer satisfaction are unparalleled, garnering top-rated reviews from our customers year after year.
Whether it's a trench drain installation or drain unclogging and replacement for your home or business, count on MT Drains & Plumbing to fix the problem professionally and efficiently.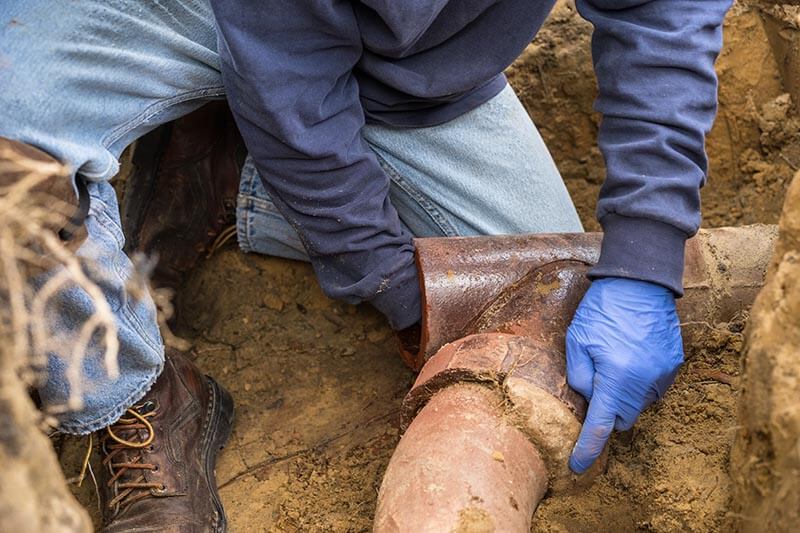 Drain Repair Services We Offer
At MT Drains & Plumbing, we are committed to offering you the best plumbing, waterproofing, and drain repair services. Count on us for:
Residential Plumbing
Commercial Plumbing
Advanced Sewer and Drain Camera Inspection
Fixture Installation, Repair, and Maintenance
Replacement or Repair of Drain Piping
Low Water Pressure
Hydro Jet Drain Cleaning
Trenchless Drain Replacement, Installation, and Sewer Repair
Pipe Descaling, Thawing, and Repair
Gas and Waterline Repair
Drain Snaking
Tree Root Invasion Clearance
Catch Basin Cleaning
Contact us today for a free, on-site estimate and consultation—we offer you the service you need for your home or business.
Need Help With Your Drainage?
Our Drain Repair Experts Are Licensed and Insured
MT Drains & Plumbing has been in business for over 20 years. As a legitimate plumbing, waterproofing, and drain repair contractor in Richmond Hill, we employ qualified journeymen plumbers that are fully licensed and insured to offer drain repair in Richmond Hill.
"After a Quick Inspection, They Found The Source and Cleared It"
We had an odor emanating out of every drain in the house. We gave Mt Drains a call and they arrive in a few hours. After a quick inspection they found the source and cleared it in under two hours. I whole-heartily recommend them.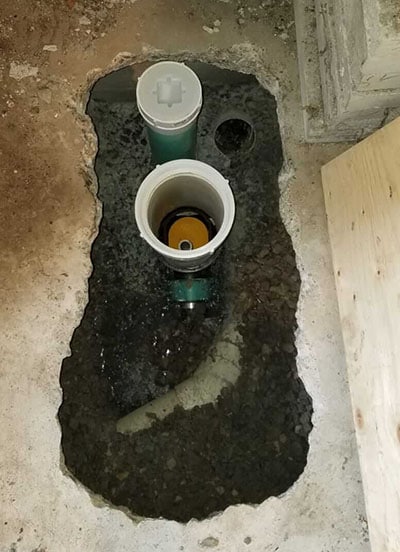 Offering 24/7 Emergency Plumbing Services
Why Choose Us for Your Drain Repair Services?
At MT Drains & Plumbing, expect to be treated as a priority; we aim to serve all our customers with the professional courtesy and respect they deserve.
The philosophy has served us well over the years; no matter the size of the job, we approach it with dedication, honesty, and professionalism to ensure flawless service the first time.
MT Drains & Plumbing offer:
Guaranteed Parts and Workmanship
Trained and Licensed Journeymen Plumbers
Same-Day Appointments and Emergency Services
Fully-Insured Services
Cost-Effective Upfront Pricing with Free On-Site Estimates
Best Customer Service
No-Mess Work
You can rely on us for a full range of residential and commercial plumbing services in Richmond Hill and all surrounding areas.
Offering 24/7 Emergency Drain Cleaning Services
We Offer 24/7 Emergency Plumbing Services
Our expert plumbers are on call 24-hours a day to provide emergency plumbing services for homes and businesses in the Richmond Hill area. With MT Drains & Plumbing, you won't suffer the worry of searching for a cost-effective plumber that is open nights, weekends, or holidays.
We are immediately available for your plumbing emergency and handle all plumbing issues, including:
Water Flood Damage Cleanup and Restoration
Sewer Back-Up
Toilet and Sink Repair
Unclogging Drains
Burst Pipes or Water Leak Repair
No Water
Call us with confidence in your plumbing emergency—we will get to you as quickly as possible with immediate service at prices that won't burn a hole in your pocket.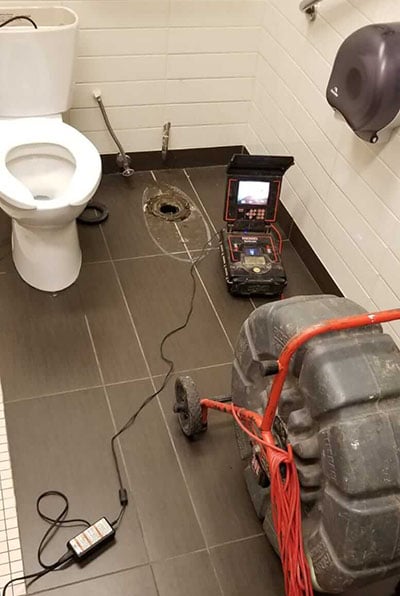 Reviews From Our Happy Richmond Hill Customers
Alexander from Richmond Hill
Trusted Pros
During the renovation un the basement Pavel from MT Drains&Plumbing came over and fix all the leaks, changed all the drains inside and did plumbing for new laundry and new 3pcs bathroom. Him and his team did a great job. I am very satisfied and i highly recommend them. Thanks Pavel
Maria From Richmond Hill
Trusted Pros
These guys saved our life by showing up in time and replaced a leaky pipe easily! After that, we scheduled an appointment for the next day to check everything out, so the leaking problem won't bother us again because of the extremely cold temperatures. We had great communication and we received all the answers that we needed for future prevention of the problem. Well done job! I would say, above and beyond.
Ryan from Richmond Hill
Trusted Pros
My wife and I purchased an older home in Richmond Hill with the understanding that we were going to need to do a fair bit of work to modernize the infrastructure. Plumbing being a major focus. I contracted MT to: replace cast iron plumbing stacks (there were two in my home), plumb our new kitchen main floor, and also a basement kitchen that we have, as well as some plumbing for two new bathrooms. We also decided to replace the clay sewers in the home which were about 75 years old and also install a backflow valve. Eddy, Pavel and their team of plumbers did a great job.
Max from Richmond Hill
Trusted Pros
Had a great experience with MT Drains & Plumbing, I recommend everybody to contact Pavel for any plumbing project question. We had a water heater and softener installed at our home and price and service were top notch!
Janna from Richmond Hill
Trusted Pros
Thank you MT drains for being reliable, always on time and trying to accommodate my variable schedule. I am very satisfied with the price and service I was provided.
We Can Tackle Any Drain Problem
Do you have a clogged drain in your Richmond Hill home or business? MT Drains & Plumbing is here to offer expert drain repair services that will get your home or business running smoothly as soon as possible.
If you have recently experienced any of the following issues we're here to help:
Clogged or Leaking Toilets
Foul Smelling Drains
Multiple Clogged Drains and Pipes
Leaking Kitchen or Bathroom Sink
Sewer Backups
Whatever your issue, our drain specialists tackle emergency plumbing services day or night.
Drain Cleaning Services for Clogged Drains in Richmond Hill
Are you in need of drain cleaning services? Richmond Hill residents can rely on MT Drains & Plumbing to find the correct solution. With more than two decades of experience, you may rest assured that we can handle any clogged sinks and drains.
Drain Cleaning Services We Offer in Richmond Hill
You must deal with clogged drain problems decisively. The sooner you clear the clogged sink drain, the less expensive it will be to fix. In addition, by performing quick repairs and proactive maintenance, you extend the lifespan of your plumbing system.
Whether you have a hair-clogged drain or a clogged kitchen drain, call MT Drains & Plumbing today for your free estimate. Our team in Richmond Hill consists of experienced plumbers who will quickly solve drainage issues.
Speak to us about repairs to your existing system or designing a new system. We'll place all the drains optimally to ensure that the wastewater flows away efficiently.
For repairs, new builds, or replacement systems, call MT Drains & Plumbing today.
Kitchen Drain Cleaning
Kitchen drains are the hardest-working drains in the home. Every day, we wash dishes or sanitize food in them, making a kitchen drain blockage very likely.

If you have a kitchen drain pipe clogged by food scraps, grease, or oil, MT Drains and Plumbing can eliminate the blockage and get your clogged kitchen drains working efficiently again.

Our team will use a drain snake or mini hydro-jetting equipment to tackle light obstructions quickly. We can also schedule camera inspections to locate tough, hard-to-reach blockages and promptly clear the clogged sink drain with powerful drain augers or hydro-jetting equipment.
Contact Us
Bathroom Drain Cleaning
Another problem area in residential plumbing systems is bathroom drains. When we shower, soap scum, grease, chemical products, and hair can cause a clogged drain. If not fixed promptly, the drain blockage can become more severe.

An excellent way to prevent hair-clogged drains in the bathroom is to use a drain strainer or protector that catches all the soap scum and hair that accumulates after a shower. However, in severely clogged bathroom drains, our plumbers can use a mechanized drain auger to get rid of the problem quickly.
Contact Us
Bathtub Drain Cleaning
With your bathtub drain clogged, you must forego a nice, long, relaxing soak in the tub. This type of clogging can have many causes, but we'll quickly get to the bottom of it.
Contact Us
Bathroom Sink Drain Cleaning
Is your bathroom sink draining too slowly? Call us before a minor issue becomes a nightmare. We have the correct tools for the job.
Contact Us
Shower Drain Cleaning
A clogged shower drain causes you a great deal of inconvenience. You cannot get ready for work or wash away the stresses of the day. You may consider this the worse drain clog in your house, but don't worry, we can help.

Call us to resolve the issue quickly and efficiently.
Contact Us
Floor Drain Cleaning
Cleaning out floor drains can be challenging for the DIY enthusiast. Without the correct equipment, it can be a long and messy process. So, why not tackle more interesting DIY projects and leave the floor drain cleaning to us?
Contact Us
Outdoor Drain Cleaning Services
These clogs could be present anywhere in the home or along the pipes leading to the municipal water supply. Our team uses cameras to assess the condition of the line along its length. We'll soon resolve any clogs.
Contact Us
Basement Drain Cleaning
A blocked basement drain can quickly cause flooding. The potential water damage comes with an additional risk—the growth of mould and mildew. Without timely intervention, structural damage becomes a real possibility.

Save your property by dealing with it as soon as possible.

Do you require professional drain cleaning services? Richmond Hill community members can contact us at (647) 998-6949 or through our website. Call today for your free estimate and experience our outstanding customer service.
Contact Us
Commercial Drain Cleaning
Businesses cannot afford any drainage issues as they can negatively impact hygiene and cause flooding. At MT Drains & Plumbing, we understand you need repairs done quickly to get things back on track.

We'll send out a team at any time during the night or day. Just call our emergency number if you need us after regular business hours.
Contact Us
Rated the Top Drain Experts in Richmond Hill
With MT Drains & Plumbing, every customer and every job matters. Weoffer the best plumbing, waterproofing and drain repair services to homes and businesses in Richmond Hill, and the surrounding areas.
As part of our service, we prioritize transparent, upfront pricing with free in-home estimates. You'll always know the costs before we begin the job.
Contact us today and let our drain experts offer you the best plumbing experience in Richmond Hill.
We Can Handle Any Drain Related Service
In Need of Drain Snaking Services?
Sometimes the obstructions in your drains or sewer pipes are so substantial that a simple plunger won't do. Drain snakes or augers are potent tools to tackle these obstructions and leave your drains clean and free of blockages.
At MT Drains & Plumbing, we have the drain specialists with the training and experience to handle complicated blockages. Our journeymen plumbers have the right qualifications and experience to handle any residential or commercial drain snaking jobs using top-notch tools and equipment.
Drain clogs form due to accidental flushing of large non-biodegradable objects or build-up; our plumbers give you the best advice on how to professionally maintain your drains so that no blockages reoccur.
Contact the drain experts at MT Drains & Plumbing to inquire about our drain snaking services today. We are available around the clock for your peace of mind and convenience.
Prevent Sewer Back-Up With a Backwater Valve
A backwater valve prevents sewer drains from overflowing, which eliminates the sewer backflow into your home that causes basement flooding.
Every year in Richmond Hill and the Greater Toronto Area, hundreds of homes are flooded with raw sewage and stormwater, leading to a loss of personal property and compromised hygiene. All this damage is preventable with a properly installed backwater valve.
As fully licensed and insured Richmond Hill plumbers, we are qualified to install your backwater valve and help you process your claim to the City of Toronto for your flood prevention rebate. We have installed numerous backwater valves in Richmond and will provide you with the documentation you need to speed up your flood prevention rebate claim.
Request a Service Call Today
MT Drains & Plumbing is your go-to residential and commercial drain repair expert in Richmond Hill; we have the expertise and experience to handle any job, big or small. We're also open around the clock because we understand that plumbing emergencies don't wait.
If you need a drain expert in Richmond Hill, ON, that homeowners and businesses trust, don't hesitate to call MT Drains & Plumbing at 905-761-5551 for immediate service from our journeymen plumbers and drain specialists.
Offering 24/7 Emergency Plumbing Services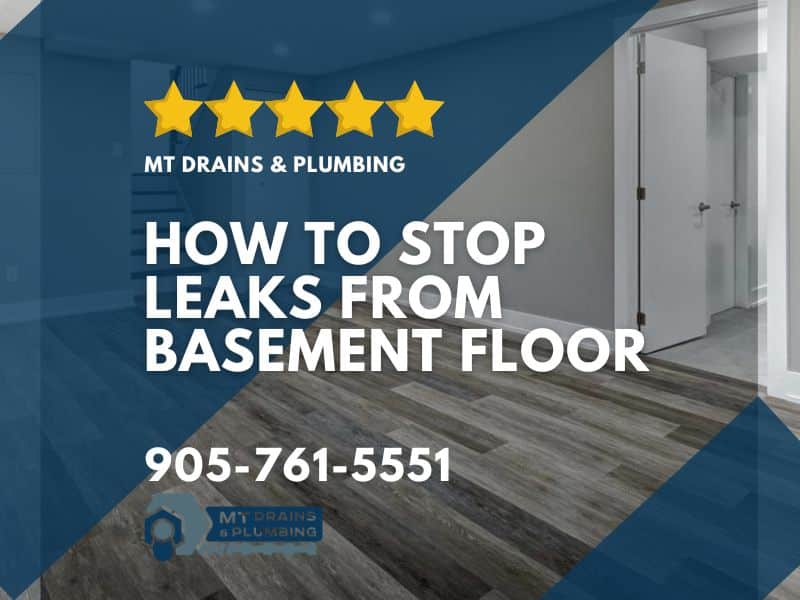 You expect most leaks to come from the bathroom or kitchen, but they can also originate from your basement. Since it's located below ground level,
Read More »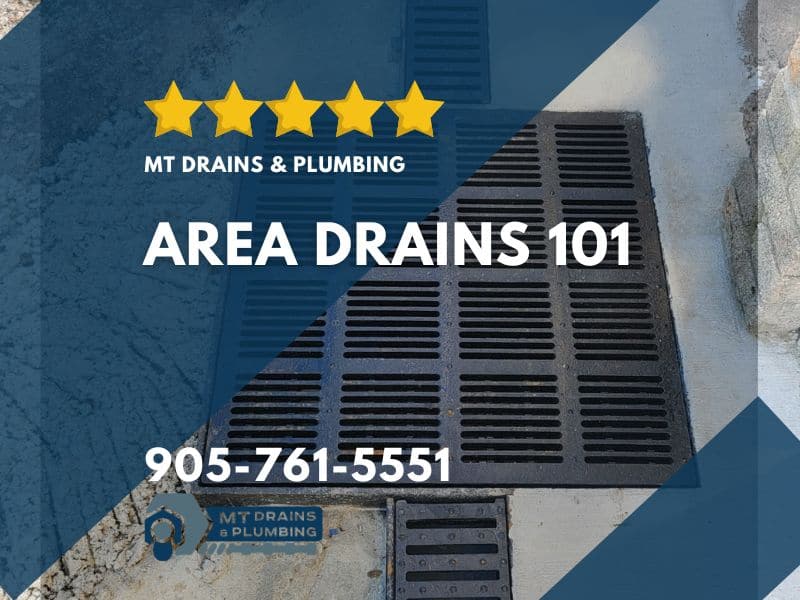 Area drains are common features of properties that have extensive landscaping or an underground swimming pool. They work like your kitchen or bathtub drain, except
Read More »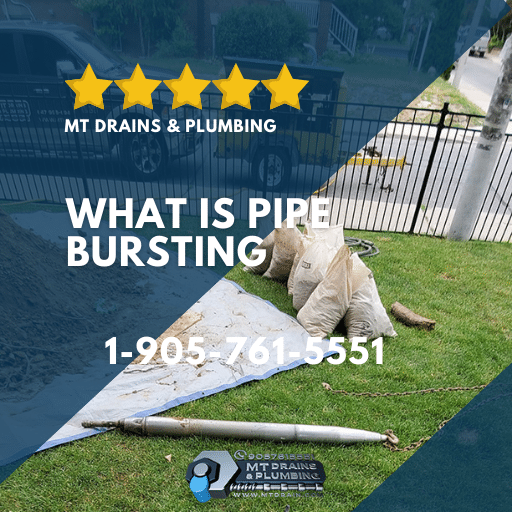 When your plumber tells you that you need to replace your underground pipes, you may feel like you're about to get hit with a major
Read More »