MT Drains & Plumbing is a plumbing and waterproofing company located in Barrie, Ontario that offers basement waterproofing services. They specialize in resolving basement waterproofing issues and providing long-lasting solutions to protect homes and businesses from water damage. 
MT Drains & Plumbing uses the latest techniques and technologies in waterproofing to ensure that their clients receive the highest quality services. Their services include exterior waterproofing, interior waterproofing, sump pump installation, crack repair, and much more. 
With a team of experienced professionals and a commitment to customer satisfaction, MT Drains & Plumbing is a reliable choice for basement waterproofing services in Barrie, Ontario.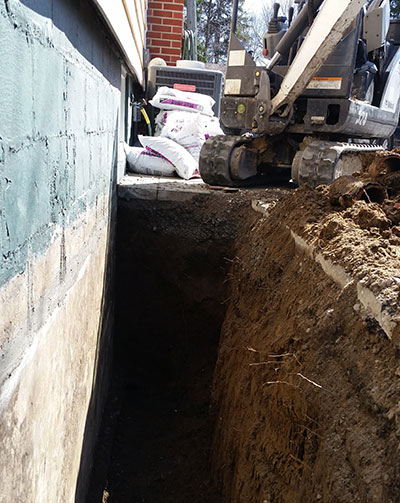 Basement Waterproofing Services We Offer
The waterproofing services offered by MT Drains & Plumbing in Barrie, Ontario typically include:
Exterior waterproofing: This involves waterproofing the outside of a building to prevent water from penetrating the basement.

Interior waterproofing: This involves waterproofing the inside of a building, typically by sealing cracks and gaps in the walls and floor.

Sump pump installation: A sump pump is used to remove water from the basement and discharge it outside the building.

Crack repair: This involves repairing cracks in the walls and floor to prevent water from seeping into the basement.

Wall and floor coatings: This involves applying a waterproof coating to the walls and floor to prevent water from penetrating the basement.

Drainage solutions: This involves installing drain tiles and French drains to divert water away from the building.

Egress window installation: Egress windows provide a secondary means of escape from the basement and also provide more natural light.
By offering these services, MT Drains & Plumbing helps homeowners and businesses protect their basements from water damage and ensure a dry, safe, and comfortable living space.
Offering 24/7 Emergency Basement Leak Repair Services
Insured and Licensed Waterproofers
Owning a home is expensive, and balancing savings for disasters with general upkeep can be overwhelming. It's crucial to have access to service providers you can trust, like our experienced professionals.
Our waterproofers are all licensed and fully insured. Their work exceeds industry standards, and their experience ensures they will provide the best possible solutions for you.
"I Would Recommend MT Drains For Waterproofing"
We had the pleasure of working with Pavel and his team of waterproofers. Our basement wall crack was causing a leak in the basement. Pavel came the same day to investigate the issue, the guys did an amazing job and it like there were never here. I would recommend Pavel for waterproofing and plumbing to everyone.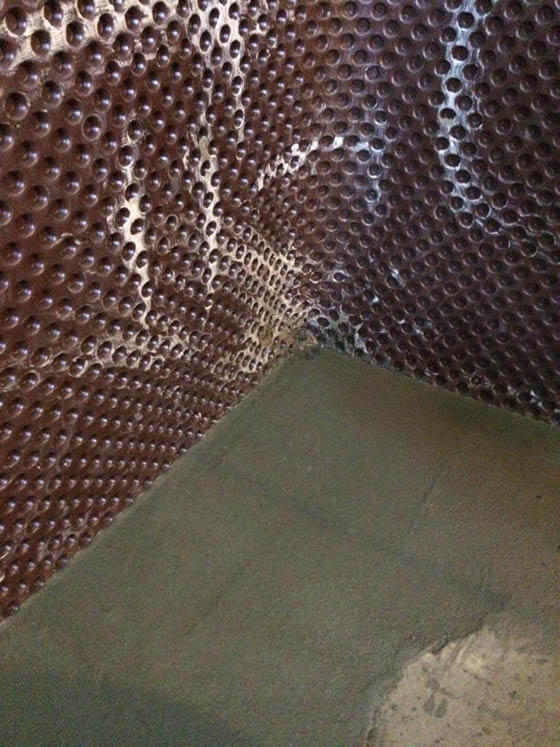 Get Help Waterproofing Your Basement Foundation
Interior vs. Exterior Waterproofing
If you are debating between exterior or interior basement waterproofing to your home, it's better to consider a combination approach. By combining efforts on both sides of your walls and foundation, you have the best chance of keeping your home dry and mould-free.
Internal waterproofing involves covering the inside surfaces of your external walls with a water-resistant layer. The process is easiest in an unfinished basement, but still possible for most homes.
External basement waterproofing takes similar steps. First, we seal any cracks or breaks in the walls. Then, we create a waterproof barrier between the groundwater and your home.
Sump pumps, weeping tiles, and related methods of water removal work equally well inside and outside the home.
Reviews From Our Happy Barrie Customers
Cameron from Richmond Hill
Trusted Pros
We had a leak in the corner of our basement. Pavel examined the area and provided some tips on how to inspect and find the cause. After finding and locating the root of the problem, he provided me with a reasonable solution and reasonable estimate of cost. The work his crew did was professional and clean. I highly recommend Pavel, for I find him professional, reasonable, responsive and cooperative.
Diane from Toronto
Trusted Pros
During the heavy rains in May, water seeped into my basement. I consulted many companies specialising in waterproofing basements and installing back valves. As the 2 jobs involved digging a deep hole, it seemed sensible to choose a company that could do both. The crew arrived promptly and quickly set to work. I had removed all the plants from the working area, so they could start digging immediately. Tarps were spread out to hold the earth excavated and after 1 day the back valve had been installed and trenches dug. On the 2nd day, again, after prompt arrival, the crew quickly set to work.They even dug up a plant that I was concerned about and replanted it later. The work was completed on the 2nd day and it was a large area to dig. I would recommend this company based on my observations of the work they did at my home.
Timothy from Toronto
HomeStars
Pavel and his team did an excellent job in helping me with my leaking basement. They were very responsive and provided honest advice. Two days work was completed in one day and they took great care in keeping the area clean, returning it to its original condition. I would highly recommend MT plumbing!
Pavel was very knowledgable and diagnosed the issue very quickly. The work was completed promptly as agreed. The crew came in and completed the work professionally . Pavel made sure to check everything went well through out the work. I would not hesitate to recommend MT Drains and plumbing to any of my friends.
Thiai from Toronto
HomeStars
I selected this company from several estimates because it seemed to offer a good combination of experienced, professional knowledge and reasonable pricing. It more than lived up to expectations, with work completed exactly as specified, time lines met, custom made window wells designed as requested, and clear communication throughout. I would definitely recommend this company.
Call Today For A Free Onsite Estimate
Basement Foundation Crack Repair Experts
Even well-maintained houses experience problems.
Foundations tend to crack
or damage after years of supporting your home in a damp, underground environment.
MT Drains & Plumbing is a company that specializes in basement foundation crack repair services in Barrie, Ontario. They have a team of experts who have the knowledge and experience to diagnose and repair foundation cracks effectively. MT Drains & Plumbing uses state-of-the-art techniques and materials to ensure that their clients receive high-quality services that will last for many years. 
Their crack repair services include epoxy injection, carbon fiber reinforcement, and wall stabilizationations to repair cracks and prevent them from spreading. With a commitment to customer satisfaction, MT Drains & Plumbing is a reliable choice for basement foundation crack repair services in Barrie, Ontario.
Weeping tiles help to pull water away from your floor and prevent any pooling in the area, for example. Your foundation remains drier and less prone to cracking or breaking. It also prevents water seepage.
Resolve Your Foundation Crack Today
Benefits to Basement Waterproofing
Basement waterproofing offers several benefits to homeowners and businesses, including:
Prevent water damage: Waterproofing prevents water from entering the basement, reducing the risk of water damage, mold growth, and structural damage.
Increase living space: A waterproofed basement can be used as a living space, providing additional room for a family or extra income as a rental unit.
Increase property value: A waterproofed basement adds value to a property, making it more attractive to potential buyers.
Improve air quality: A waterproofed basement reduces the risk of mold growth, which can improve indoor air quality and reduce the risk of health problems.
Lower energy costs: A waterproofed basement helps regulate the temperature and humidity levels in the building, reducing the need for heating and cooling and lowering energy costs.
Enhance peace of mind: Knowing that your basement is protected from water damage provides peace of mind and reduces the stress of potential water-related problems.
Overall, basement waterproofing is an investment that can provide a comfortable living space, increase the value of a property, and reduce the risk of water damage and mold growth.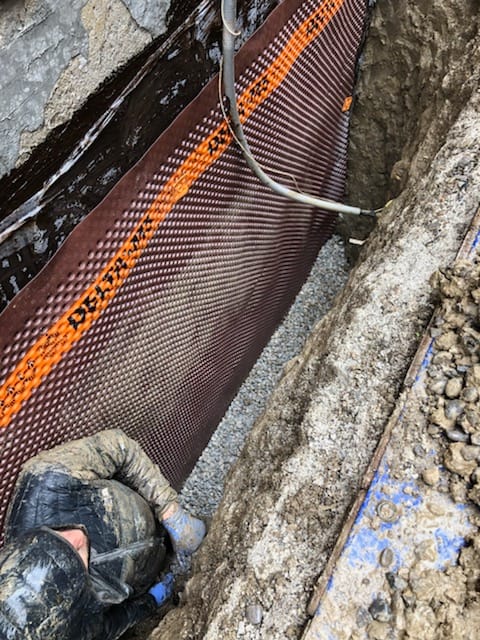 Sump Pump Installation & Repair
Even the basement with the most solid construction and best waterproofing needs help to keep water outside where it belongs—it is where a sump pump comes in handy.
Sump pumps
pull water out of one location and move it to another spot further away from your home. We can install these helpful devices outside around your house to prevent puddles or in areas that flood routinely.
The sump pumps are an ideal part of any comprehensive waterproofing plan. Based on your needs, we will either recommend a durable model with a long-lasting battery or a smaller version that's great for more temporary jobs.
Need a Sump Pump Installed?
Why Choose MT Drains & Plumbing for your Basement Waterproofing Project?
If you're in need of basement waterproofing services in Barrie, Ontario, you can contact MT Drains & Plumbing for assistance. MT Drains & Plumbing is a professional plumbing and waterproofing company that offers high-quality services to homeowners and businesses. They have a team of experts who use the latest techniques and materials to provide long-lasting waterproofing solutions. 
With a commitment to customer satisfaction and a proven track record of success, MT Drains & Plumbing is a reliable choice for all your basement waterproofing needs. 
You can contact us by phone or request a free quote for more information and to schedule a consultation.
Barrie is a city in Central Ontario, Canada, located on the shores of Kempenfelt Bay on Lake Simcoe. It has a population of approximately 141,434 and is the 36th largest city in Canada. 
Barrie is known for its waterfront, parks and trails, cultural events, and strong economy driven by manufacturing, healthcare, education, and tourism industries. 
It is also a popular destination for outdoor activities such as skiing and snowboarding at the nearby ski resort, Snow Valley, and boating and fishing on Lake Simcoe.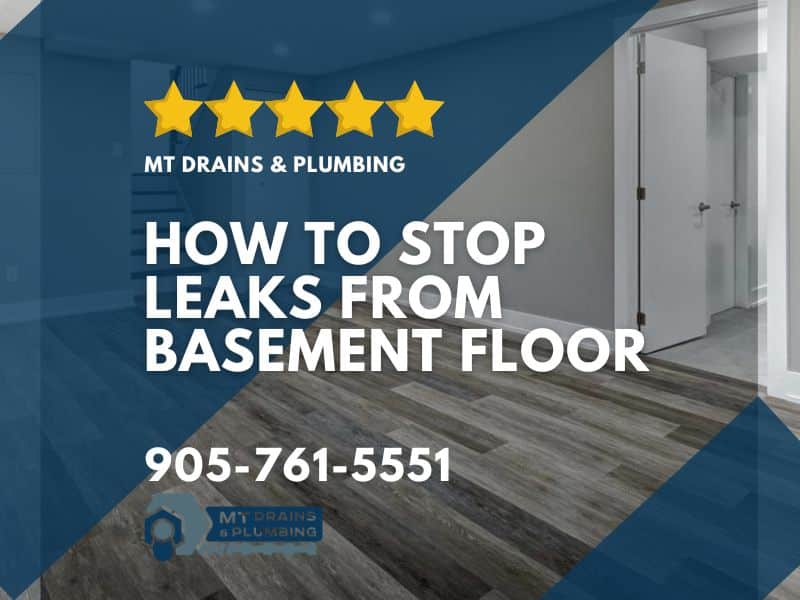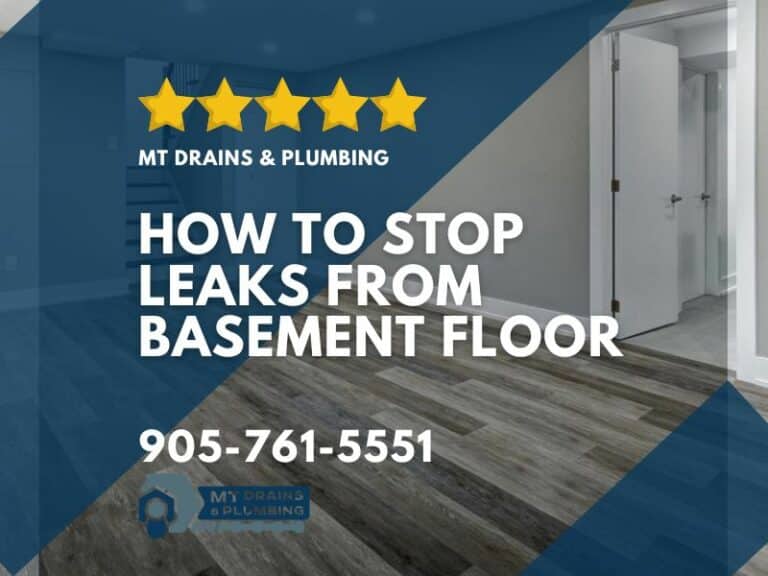 In this article, we explore the crucial importance of waterproofing your basement, including the signs to look out for, the common causes of basement floor wetness, and steps you can take to fix a wet basement. We also offer a detailed guide on how to prevent basement floor wetness and why it's important to identify the cause. Finally, we provide information on how to contact MT Drains & Plumbing for a free quote on your basement waterproofing needs, highlighting the benefits of choosing them.
Read More »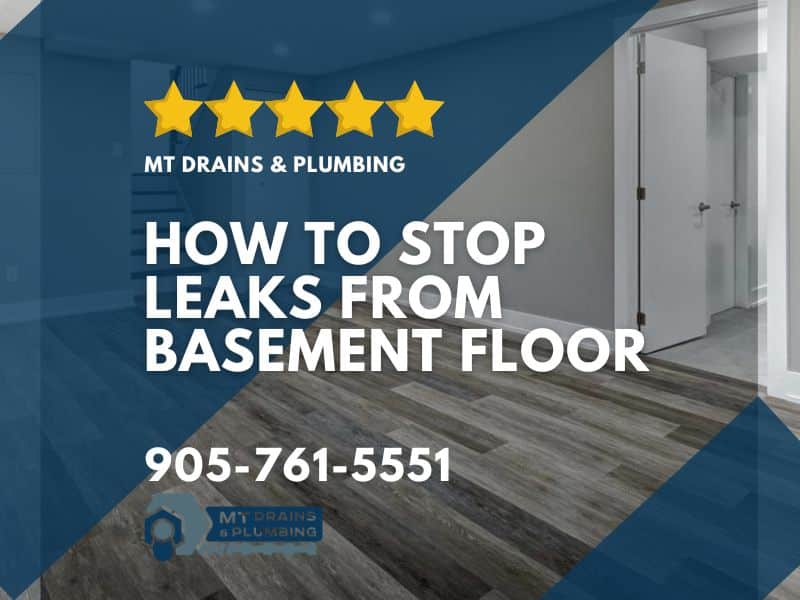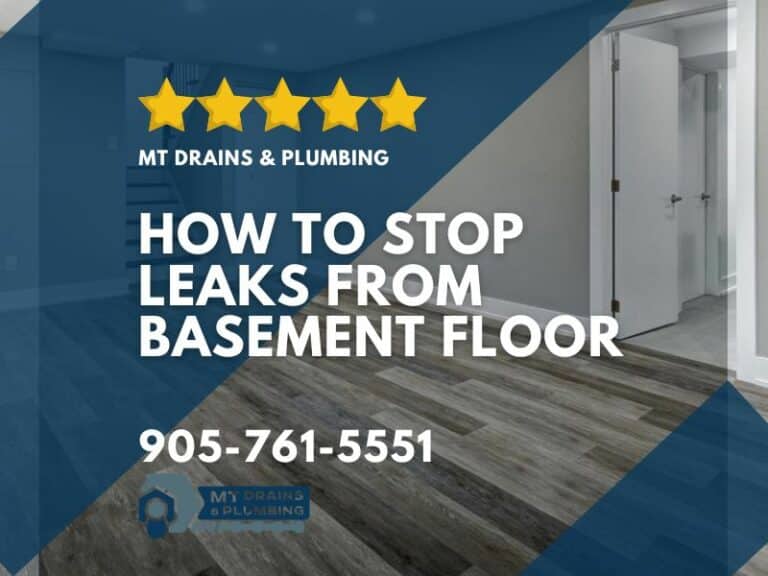 You expect most leaks to come from the bathroom or kitchen, but they can also originate from your basement. Since it's located below ground level,
Read More »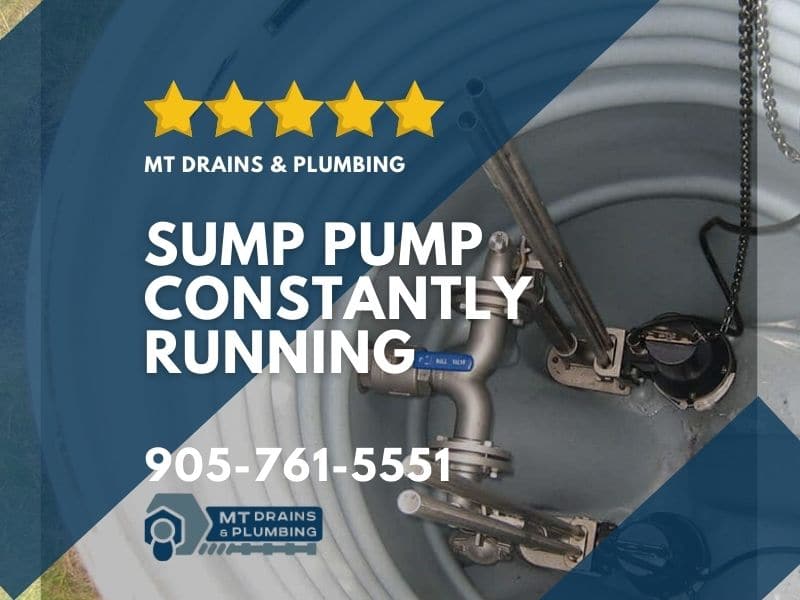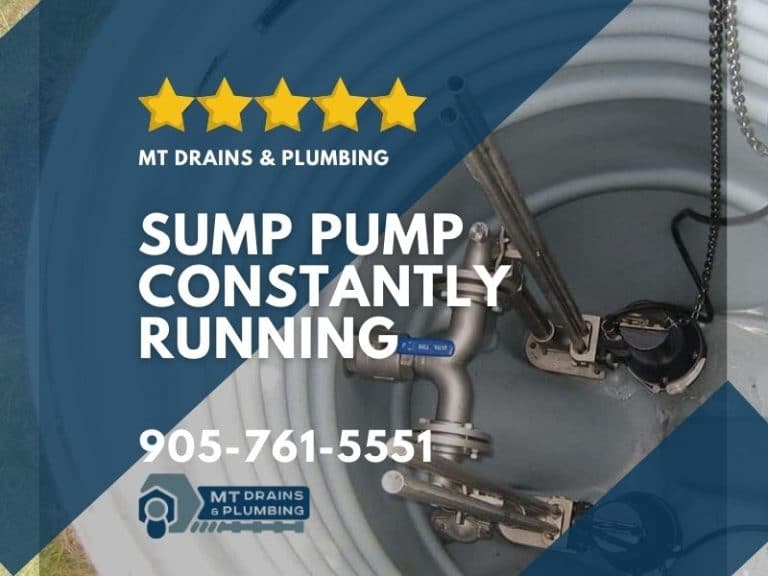 Do you find your sump pump constantly running for no apparent reason? If so, you're not alone. This is a common problem that can stem
Read More »