Searching for a basement waterproofing repair company in Markham?
Experiencing damp walls or a leaky basement floor?
You may be in need of our Markham basement waterproofing services.
MT Drains & Plumbing utilizes cutting-edge tools and technology to prevent water damage. Our waterproofers take a comprehensive look at your home, find the weaknesses, and implement long-lasting solutions. Today, we offer a
wide range of services
that not only reflects our workmanship but also our three decades in the trade.
Waterproofing Services We Offer
If you have a waterproofing problem, we can solve it. We have the wherewithal to correct troublesome leaks and cracks that can otherwise cause permanent structural damage. Here are just some of the services we offer:
While a DIY approach is tempting, quality matters. When installing waterproofing in Markham, it's imperative to have professional-grade craftsmanship. A single misplaced tile or shallow trench can leave your basement in a worse position than when you started. Having a licensed professional handle your leaky basement or other waterproofing tasks is more than worth the investment.
Need Help Fixing Your Leaky Basement?
Interior vs. Exterior Waterproofing
MT Drains & Plumbing uses interior basement waterproofing to redirect unwanted water away from the house. Often, this process includes adding drains and pipes along the walls to catch seepage and collect water under the foundation. The water then flows into a sump pit, before the sump pump ejects it.
Meanwhile, exterior basement waterproofing is the first line of defense against water damage. It uses surface drainage and exterior drainage systems to prevent moisture from entering the home. For instance, a French drain or drain tile system actively transports water away from the foundation to keep your basement safe and dry.
"I Would Recommend MT Drains For Waterproofing"
We had the pleasure of working with Pavel and his team of waterproofers. Our basement wall crack was causing a leak in the basement. Pavel came the same day to investigate the issue, the guys did an amazing job and it like there were never here. I would recommend Pavel for waterproofing and plumbing to everyone.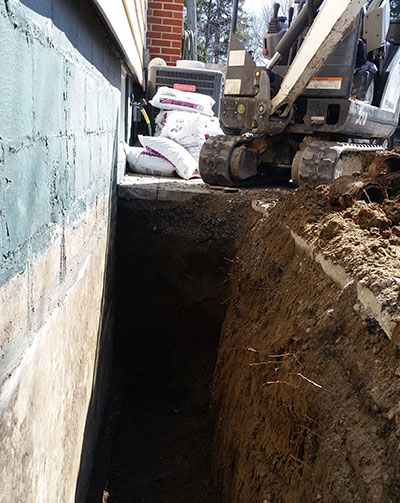 Get Help From The Top Rated Basement Waterproofing Company in Markham
Insured and Licensed Waterproofers
Credentials matter in the waterproofing business. Every project at MT Drains & Plumbing comes with liability insurance and worker's compensation. If there is a personal injury or property damage during our visit, you're covered. The same applies if employees are hurt and have medical bills or lost wages.
While Canada does not require waterproofers to get licenses, the distinction is common among reputable companies. That is why MT Drains & Plumbing has the proper licensing. It's another way we show customers our commitment to the highest standards in the industry.
Basement Foundation Crack Repair Experts
MT Drains & Plumbing has proudly served Vaughan, Toronto, Markham, Richmond Hill, and Newmarket since 1991. We take pride in impeccable service, timely responses, and long-lasting repairs. With almost three decades of firsthand experience, there is no problem too small or too large for us to handle.
People trust MT Drains & Plumbing because we have an unparalleled combination of expertise and performance. Our waterproofers find innovative and cost-effective ways to ensure you get the best value for your money. This dedication to serving customers above all else is why people make us the only waterproofing service they will ever use.
Reviews From Our Happy GTA Customers
Alexander from Mississauga
Trusted Pros
During the renovation un the basement Pavel from MT Drains&Plumbing came over and fix all the leaks, changed all the drains inside and did plumbing for new laundry and new 3pcs bathroom. Him and his team did a great job. I am very satisfied and i highly recommend them. Thanks Pavel
Maria From Concord
Trusted Pros
These guys saved our life by showing up in time and replaced a leaky pipe easily! After that, we scheduled an appointment for the next day to check everything out, so the leaking problem won't bother us again because of the extremely cold temperatures. We had great communication and we received all the answers that we needed for future prevention of the problem. Well done job! I would say, above and beyond.
Ryan from Toronto
Trusted Pros
My wife and I purchased an older home in East York with the understanding that we were going to need to do a fair bit of work to modernize the infrastructure. Plumbing being a major focus. I contracted MT to: replace cast iron plumbing stacks (there were two in my home), plumb our new kitchen main floor, and also a basement kitchen that we have, as well as some plumbing for two new bathrooms. We also decided to replace the clay sewers in the home which were about 75 years old and also install a backflow valve. Eddy, Pavel and their team of plumbers did a great job.
Max from Richmond Hill
Trusted Pros
Had a great experience with MT Drains & Plumbing, I recommend everybody to contact Pavel for any plumbing project question. We had a water heater and softener installed at our home and price and service were top notch!
Janna from Toronto
Trusted Pros
Thank you MT drains for being reliable, always on time and trying to accommodate my variable schedule. I am very satisfied with the price and service I was provided.
Benefits to Basement Waterproofing
We already touched on the importance of waterproofing from a monetary perspective. The investment also improves the overall structural integrity of a house. Moisture breaks down concrete, which the entire basis for your home. Waterproofing combats the erosion that can otherwise disrupt the foundation.
Internal and external basement waterproofing also improve your health. The water reduction and diversion prevent pesky mildew and mould from taking hold. The drier, climate-controlled environment means you'll spend less time and effort cleaning your basement, too.
Subsidy Program in Markham
Thanks to the city of Markham, you can get paid to invest in basement waterproofing. The city offers single-family, duplex, and triplex residential homes a subsidy of $3,400 if they install flood protection devices. You can earn it if you:
Install a backwater valve
Install a sump pump
Sever or cap the external weeping tile connection
Sever or cap the home's storm sewer
A flooded basement costs the average Canadian homeowner
$43,000
to repair. While flood insurance can cover part of that, you could still be left footing a several-thousand-dollar bill. The best way to protect your home from water damage is to invest in waterproofing.
Identify Your Waterproofing Problem
Offering 24/7 Emergency Plumbing Services
Sump Pump Installation & Repair
A sump pump is the most important device to prevent water damage. It's responsible for collecting moisture around the home and diverting it to a safe location. If you do not have a sump pump, your basement is at risk of unwanted water accumulation and damage.
MT Drains & Plumbing offers timely and affordable sump pump installation, so you never worry about basement flooding again. We handle everything from the planning to the digging to the final inspections. Plus, our waterproofers can repair any aging or broken parts regardless of their manufacturer.
Why Choose MT Drains for Your Basement Waterproofing Project
People that want the best for their basement contact MT Drains & Plumbing. Time and again, we deliver the highest quality craftsmanship in Markham and the Toronto metro area. To show customers our commitment to service, each of our projects comes with a 100 percent quality guarantee.
Don't just take our word for it. Check out the countless customer reviews that earned us a 4.9 out of 5 rating on
TrustedPros
. Our "top-notch" and "above and beyond" service is why people have remained loyal customers for years.
Get a Free On-Site Estimate
Waterproofing is one of the best investments you can make. It ensures a safe and moisture-free basement while also increasing the value of your house. Basement waterproofing even mitigates unwanted water damage that can cost tens of thousands of dollars to repair.
Get started upgrading your home with a free on-site estimate today. MT Drains & Waterproofing provides complimentary consultations in which our waterproofers will walk you through when, where, why, and how to improve your waterproofing. Call us at (905) 761-5551 and experience the difference for yourself.
Offering 24/7 Emergency Plumbing Services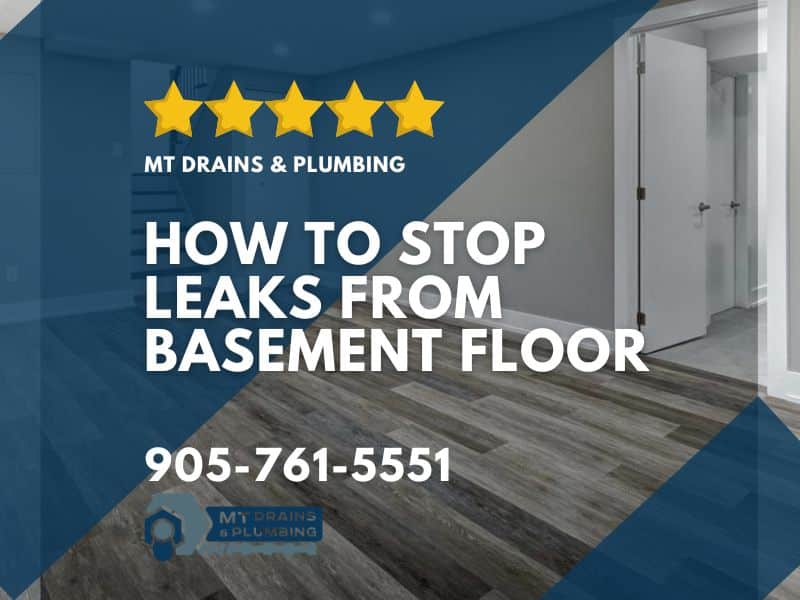 In this article, we explore the crucial importance of waterproofing your basement, including the signs to look out for, the common causes of basement floor wetness, and steps you can take to fix a wet basement. We also offer a detailed guide on how to prevent basement floor wetness and why it's important to identify the cause. Finally, we provide information on how to contact MT Drains & Plumbing for a free quote on your basement waterproofing needs, highlighting the benefits of choosing them.
Read More »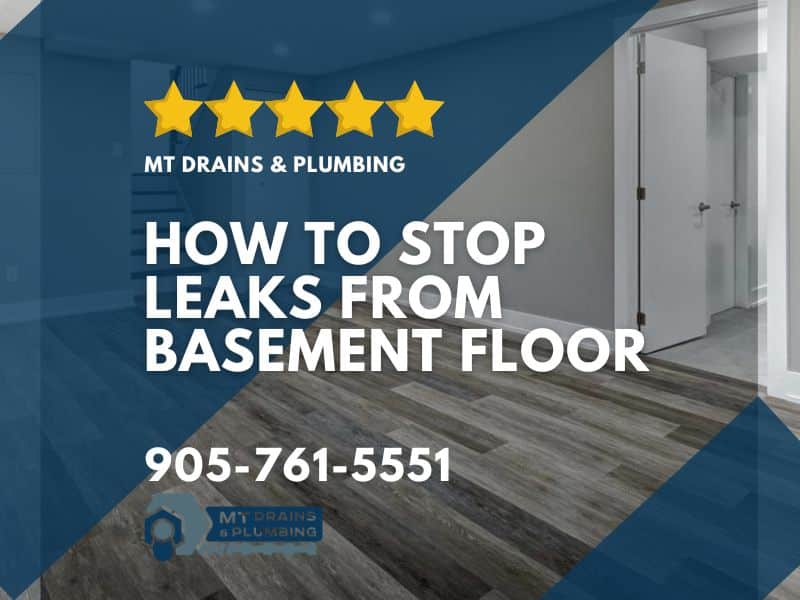 You expect most leaks to come from the bathroom or kitchen, but they can also originate from your basement. Since it's located below ground level,
Read More »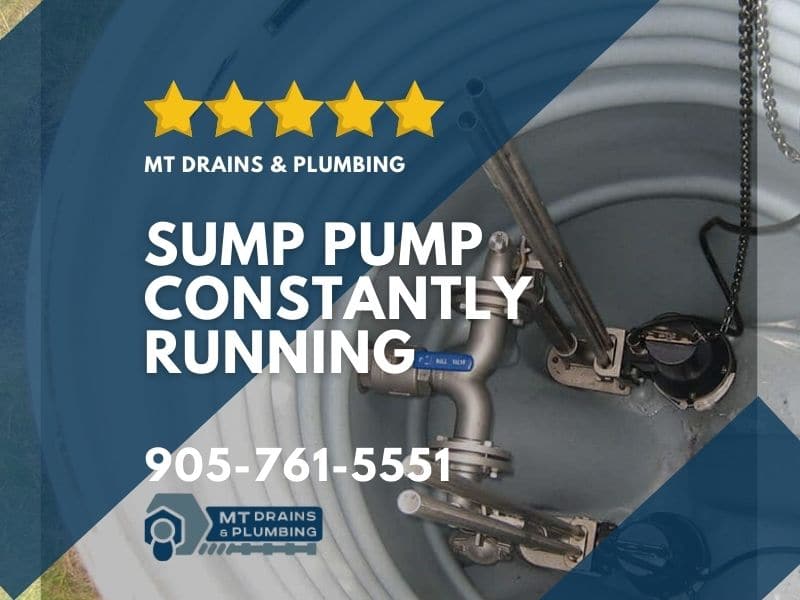 Do you find your sump pump constantly running for no apparent reason? If so, you're not alone. This is a common problem that can stem
Read More »