Identify Your Waterproofing Problem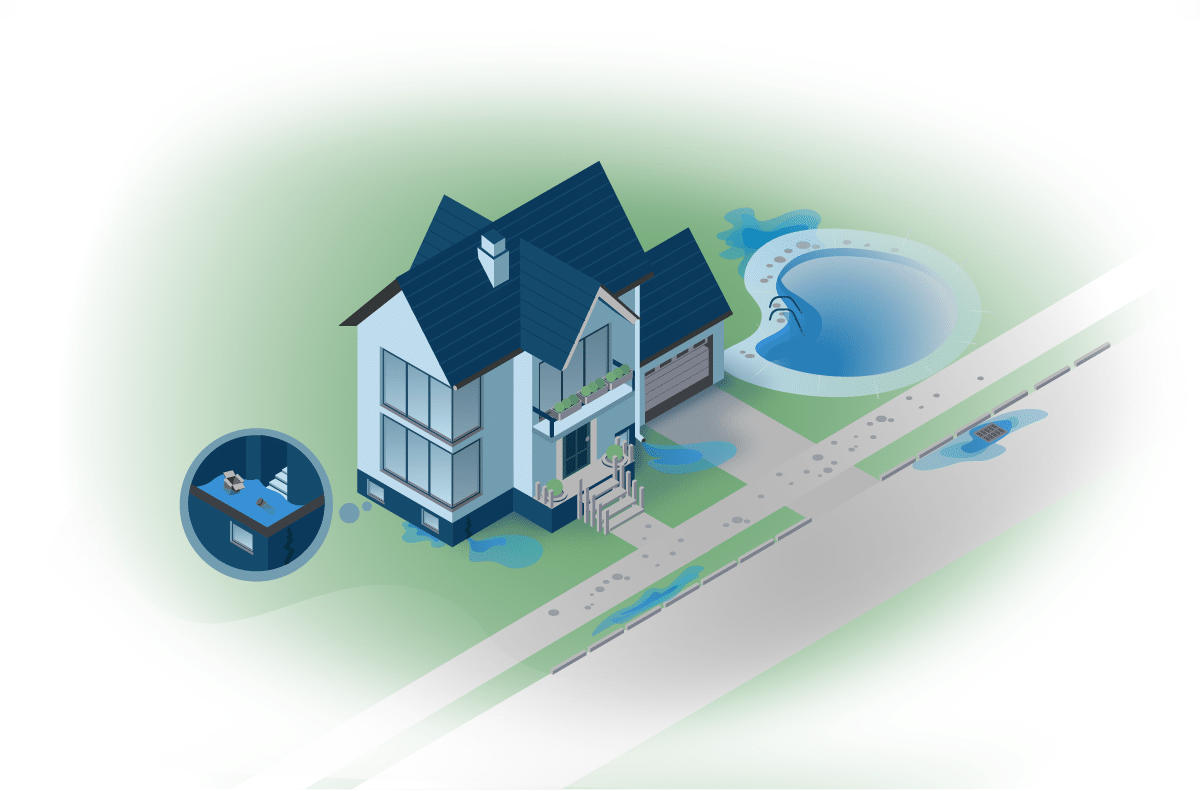 Street water not draining after rain
Water not draining fast enough or large puddles are forming after rain or snow melting.
Water in the yard
Standing water in the yard or run-off from the neighbours.
Water collecting near downspout or yard
Standing water on the base of your home might be causing basement leaks or crawl space flooding.
Water near the house foundation
Standing water on the base of your home might be causing basement leaks or crawl space flooding.
Cracked foundation
House foundation cracks could cause water seepage into your home.
Water In The Basement Or Damp Basement
Protect and stop water from getting into your basement or crawl space with our waterproofing solutions.
Water Pooling Near Sidewalk or On Your Lawn
Experiencing water pooling in your lawn leading up to the sidewalk or an increase in your water bill? 
Do you have a leaky or wet basement? Are you unsure where the water is entering from? We can help you find a cost-effective method for your waterproofing your basement in Toronto. We start by sending a professional waterproofing consultant to evaluate your basement's foundation to find the cause of the water leak.
Our expert will then recommend the best course of action. If water has found its way into your home or business through a basement crack, don't wait for more damage to occur, contact us.
Waterproofing Prices in Toronto
If you are looking for consultation and diagnostic of your wet basement issue. We offer free no-obligation on-site estimates. Call us to schedule your appointment before more damage is done to your home. Call
(905)-761-5551
.
Issues with water in and around your home could lead to permanent structural damage and costly repairs if left unattended. Preventing them before they begin to destroy your home is the most critical step you can take.
Here are some warning signs and things to consider when you are considering if you require basement waterproofing:
What To Look For To Identify A Leak?
A consistently wet basement can lead to strong odours and eventually mould. It will destroy floors, walls, and could even damage roofing. The source of the water could be external like seepage from underground or back up from city drainage systems.
With external or interior waterproofing you can prevent or resolve these problems.
Leaky Basement Repair In Toronto
How To Check For Cracks In The Basement Foundation?
Locate the general area of the wet spots. Take note of the area or take a picture. Wipe the area clean and move all the furniture and carpeting from the affected area to prevent water damage while you wait for a waterproofing consultant.
2. Find The Source Of The Leak
It is possible for the water to enter from several places.
Burst pipes
Cracked basement foundation
Leaky roof
Clogged drain pipes
Basement window well
The leak sources above are just a few possibilities.
3. Take Notes And Pictures
The cause of a wet basement could occur at specific times. After taking a picture and making note of the location of the
water leak
. Write down the weather conditions or if anyone was taking a shower, washing dishes or using the laundry machine.
Finding the source of the leak is a crucial step in determining the best waterproofing solution that will prevent further damage.
4. Clean And Monitor The Area
Continue to observe the area for any water leaks. If the water returns contact MT Drains & Plumbing for a free on-site evaluation.
It is essential to do a check of the entire interior perimeter of your home as well as the exterior to get the best assessment of why your basement has a leak.
Look at your downspouts to be sure they are positioned away from the foundation and clear out any debris in your gutters.
Another thing to be mindful of is if you have water pooling around your home after it rains.
If you are still experiencing leaking, this could result in hydrostatic pressure buildup in the walls of your basement and lead to costly damage.
What Are The Types Of Leaky Basement Repair Techniques?
Without the proper systems in place, water or other waste might flow into your home under certain conditions. If your property experiences
flooding
or water tends to pool around your house, you should
have a sump pump installed
To make sure that your property is protected, ask our waterproofers about whether a sump pump is needed in your home.
2. Basement Foundation Crack Repair
Attempting to find and plug a crack in a basement floor is only a quick fix. If you ever you
find a crack in your basement floor
tiles there is likely a larger problem causing this damage that is unseen. As seasons change freezing weather in Winter followed by thawing in Spring will make these problems worse unless addressed.
If you see a variety of cracks in your basement that are more than 1/8" wide, then it may be time to think about waterproofing before your foundation is ruined.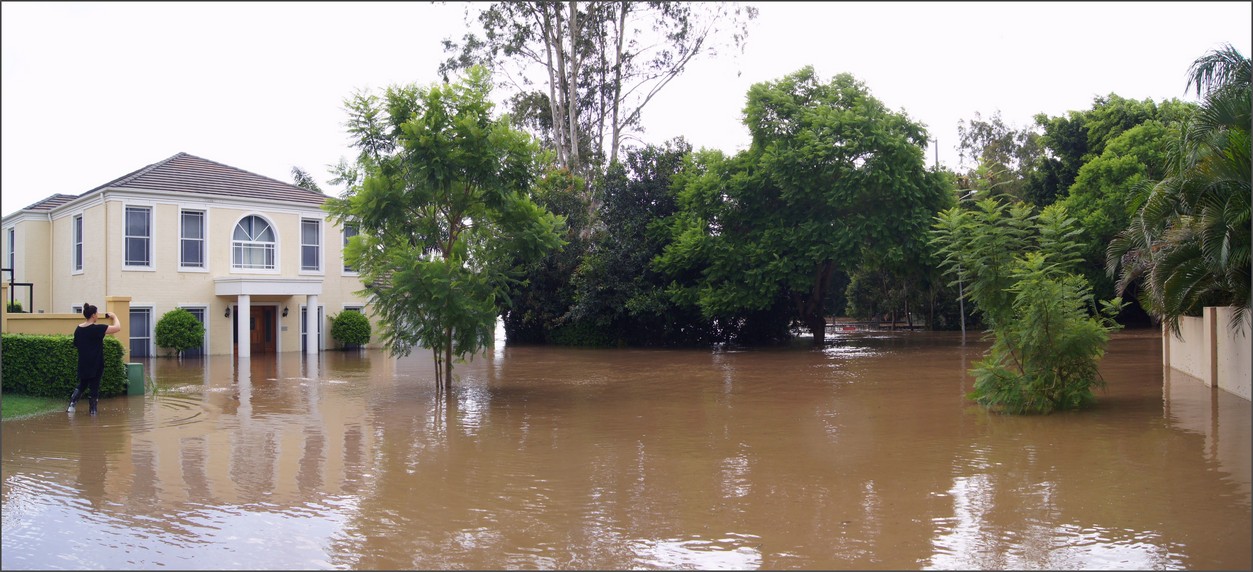 A curtain drain is an underground trench that slopes downward. It usually begins around two feet below ground level and is one and a half feet wide. Gravel fills the hole to give the water somewhere to go. A French drain sits at ground-level. You can see the gravel even with the ground around it. These are frequently installed in yards or on lots that already have some slope to them. French drains can take advantage of the existing terrain and move water accordingly.
Read More »
Convenient Choices in Internal Waterproofing
If you're interested in basement waterproofing. It's important to use concrete coatings for waterproofing applications. After these coatings dry fully, they remain intact on concrete or masonry walls for good. This technique can often help people who have basement concerns that are on the minor side. They guide this unwanted water to locations that aren't close to your structure. Vapour barriers are yet another oft-used element. These can promote additional structural dryness as well.
There are many people, however, who have basement troubles that are markedly more severe in nature. If you're part of that category, then you may want to consider interior drainage system installation. These refer to systems that have the ability to gather water that somehow makes its way inside of basements.
What Is Basement Foundation Repair?
Oftentimes, the external ground around your home and the soil under the house will naturally erode over the years. This is caused by water saturation from weather conditions or other external sources of water and it will eat away at the home's foundation causing major structural damage over time. Putting up a waterproofing barrier will ensure this erosion is brought to a halt.
What Should I Do If My Basement Window Leaks?
Basement windows can serve as a much-needed light source in a basement but also as a means by which water can seeps into your basement. Basement windows are the typical entry point for water to get into your basement. Sealing them may not be enough, so an extra step to take is installing a
Window Well
to make sure that any water that is getting in will have a proper drainage channel to get out.
internally waterproofing your home not only protects your foundation, but it also makes your basement more comfortable to be in as it prevents excess moisture and humidity caused by groundwater penetrating your foundation. We're a local company that can cater to all of your internal waterproofing requests with impressive skill and enthusiasm.
We respond to the waterproofing needs of commercial and residential customers. We can help you with everything from weeping tile installation to French drain installation and beyond. We can even assist you with basement crack repair and window well installation work.
How Does Basement Waterproofing Work?
Internal waterproofing service is a pretty simple concept. First and foremost, it entails digging a trench from within your basement. This trench should run directly alongside the problematic space. Once the trench has been dug, drainage system insertion starts.
The purpose of this system is to guide water accumulation over to ways out of the home. Concrete is then poured in order to close the trench. This provides property owners with the promise of basements that are perfectly dry and comfortable.
Can A Sealant Fix My Basement Leak Issue?
Plumbers rely on internal sealants as a means of stopping additional water escape, preventing potential water damage. These kinds of sealants are not necessarily effective in stopping leaks for good. They can be useful for the sealing of conspicuous cracks that are present on floors, ceilings and walls.
Note that weeping tiles and French drains are both typical sights in the internal waterproofing world.
Why Is Internally Waterproofing Your Home A Good Idea?
Internal basement waterproofing in Toronto can be beneficial for many households. It doesn't negatively influence outdoor surroundings in any manner, and it safeguards basements of all kinds from the hazards of the outdoors, too. It minimizes hydrostatic pressure while being remarkably budget-friendly.
Make An Appointment With Our Plumbing Firm Today
If you're searching for an unrivaled external waterproofing company, MT Drains & Plumbing can help you out. We make basement waterproofing requests straightforward, hassle-free and efficient for our customers. Anyone who wants to receive the best help in cases of flooded or leaky basements should contact us.
A Straightforward Waterproofing Process
This type of waterproofing is appropriate for basements that are equipped with masonry block and poured concrete walls alike. It's a process that entails dirt excavation right by basement walls, setting up moisture barriers, and the installation of dimple boards. Dimple boards are made to push water toward locations that are nowhere near walls.
This technique can keep seepage away from the location of its origins. People who want to steer clear of internal waterproofing work often opt for it. Sump pump systems can frequently help this system as a side note.